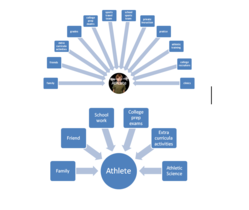 Athletic Science helps athletes and parents succeed by creating a new way to train.
(PRWEB) December 11, 2012
Athletic Science was developed by founder, Joel Orcutt, a technology executive and youth sport coach with over twenty years of experience. He recognized a shift in youth sports. Although demand for elite sports coaching is at its highest level, families are busier than ever with competing schedules and the cost of travel has skyrocketed. The Athletic Science solution uses technology to offer elite sport coaching from your home, on the road or at the field. Currently the site provides online sports coaching and online drill instruction in basketball, baseball, softball, football, hockey, volleyball, athletic training and more from elite coaches with no travel or scheduling restrictions by using video analysis and social features. The site caters to all athletes from the beginner volleyball player learning to serve to the elite football player looking to be recruited.
"I love this idea. I have been analyzing video for years this makes so much sense," said one of the MLB baseball scouts currently providing lessons on AthleticScience.com. With free accounts athletes have access to college coaches, professional athletes, professional scouts, recent division 1 college athletes, Olympic athletes and more. Currently they have coaches in 16 sports spanning 12 states and growing rapidly.
Athletes connect by using any device to submit video of themselves during a game or practice and receive narrative along with video marked up from the coach. Coaches can create and recommend drills with every lesson. It's just like getting a prescription from an expert to help you reach your goals. Completed lessons and purchased drills remain in their profile and are immediately available. All technology is cloud based and can be accessed on portable devices and home computers. Athletic Science's coaches are carefully selected because they know how to get athletes to the next level and have the most current and established sports drills in the field. Their newest football coach, Coach Kent Briggs (http://thedbconnection.com) says, "This is the future of coaching. I can work with athletes anywhere in the world. I can't wait to get started."
According to Joel, "My goal is to provide affordable, accessible elite coaching to any athlete. I am most impressed with our quality coaching. After Coach Briggs started on our site I wished my daughters played football, but we have amazing volleyball and softball coaches that have helped them. We guarantee 100% satisfaction and our number one goal is a safe environment for every student athlete." Athletes control their information by sharing goals and lessons with parents, coaches, teammates and recruiters by invite only. The Athletic Science social component promotes and encourages open communication but has controlled safety measures. "We pledge that your online training will be the safest place you train," assures Joel.
Athletic Science has all season training plans for elite coaching. In the pre-season, coaches recommend or create sports drills to help athletes stand out at tryouts. During the season, athletes can send in video of a high school game or middle school game and receive private coaching from an expert coach. In the off-season, athletic trainers and sports coaches work together. Coaches provide the motion analysis and trainers provide sports specific athletic training programs for the individual or an entire team to improve speed, agility and power.
"Because all the technology is cloud based and works on smart phones, it's like having the best coaching in your back pocket," says Joel. The site is easy and convenient and the prices are surprisingly affordable. Lessons start at $30 and athletes can earn credits for free by referring friends.
Athletes of any age can join for free and be entered to win a lesson with a featured coach by signing up at http://www.athleticscience.com.