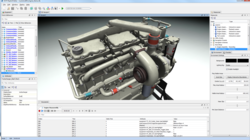 Replic8 provides GA with a lightweight 3D model/animation product and a non-proprietary viewer for IETM and training product deliverables.
Orlando, FL (PRWEB) December 12, 2012
The DiSTI Corporation, a leading developer of interactive 3D software and customized training solutions, is pleased to announce General Atomics Electromagnetic Systems' (GA EMS) adoption of Replic8. GA EMS is integrating Replic8 into its customer training products for the Electromagnetic Aircraft Launch System (EMALS) and Advanced Arresting Gear (AAG) for the U.S. Navy. GA EMS selected Replic8 for its ease of use, ability to run in native Java, its approval for use on the U.S. Air Force DoD Network, and for its ability to integrate with their existing training environment.
As a premier supplier of advanced electromagnetic systems and related power equipment for a variety of defense, energy, and commercial transportation applications, GA EMS has leading-edge expertise in several training products and programs with the U.S. DoD. To match this expertise, GA EMS has adopted Replic8 to integrate into its training products, as well as leveraging Sharable Content Object Reference Model (SCORM) files into Interactive Electronic Technical Manuals (IETM) for the EMALS and AAG programs. EMALS is designed to replace the existing steam catapult currently used aboard aircraft carriers. AAG is an electric motor-based system that will replace the current Mk-7 hydraulic system for aircraft recovery operations. These two new systems are currently being installed on the Gerald R. Ford (CVN 78).
"General Atomics' adoption of Replic8 exemplifies a superlative use of the technology. DiSTI's goal for Replic8 is to produce the best tool to aid our customers in their development of high quality and effective interactive 3D training solutions," said Joe Swinski, President of DiSTI.
After a detailed review, GA EMS chose DiSTI's Replic8 for integration based on several factors, including its recent addition to the U.S. Air Force's Approved Products List, the ability to use the tool without needing a proprietary viewer, the ability to run applications in a Java environment, the high quality output, and ease of use.
"I give all the credit to Wes Hefner, my lead trainer. He played a key role in finding the Replic8 product. Replic8 provides GA with a lightweight 3D model/animation product and a non-proprietary viewer for IETM and training product deliverables. Using Replic8, we're able to leverage our CAD files, expedite engineering updates to output files, minimize the cost of static display development, and provide our customers a CM-controlled product between engineering, IETMs and training. DiSTI's Replic8 provides our customer with a 3D animation viewing tool that can be used at the schoolhouse as well as aboard ship. It has been extremely easy for our illustrators and trainers to learn and use," said Andrew Smith, Program Support and Technical Services Manager for GA EMS.
Replic8 streamlines the development of SCORM 2004 3rd and 4th edition courseware assets by providing an out-of-the-box 3D lesson framework that can be inserted into any extendible Learning Management System (LMS) such as SilkRoad's Greenlight, C3, Lectora Inspire, Evolution, and Blackboard. Replic8 allows Instructional Designers, Subject Matter Experts or 3D Graphic Artists to easily produce compelling 3D interactive training content in less time than it takes to author a video and without computer programming experience.
For more information about General Atomics Electromagnetic Systems, visit http://www.ga.com/defense. For more information on Replic8, visit http://www.disti.com/Replic8.
About DiSTI
DiSTI is a global leader in the development of Human Machine Interface software for businesses, governments and the military. The company's flagship product, GL Studio, enables programmers and developers to build high-fidelity graphics, 3D simulations and fully interactive controls into their models, enhancing the level of realism and sophistication, while improving learning and retention.
More than 500 customers worldwide, including BAE, Boeing, Dassault, FedEx, Lockheed Martin, Honeywell, Raytheon and Thales, use DiSTI solutions to build maintenance trainers, create PC and Internet-based courseware and to develop components for safety-critical applications. As a full service provider, DiSTI offers a complement of customer programming and development services, and is the recognized leader in training solutions for the global simulation and training community. For more information, visit http://www.disti.com.