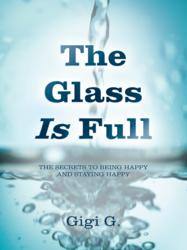 Your glass can always be full - all it takes is a change of perspective!
Sydney, Australia (PRWEB) December 11, 2012
"The pursuit of happiness" is a phrase often repeated in today's world by people of all different backgrounds, occupations and levels of success. We all search for true happiness – but how do we find it?
The secret to true happiness actually comes from inside, says Gigi G., author of the inspiring new book The Glass Is Full: The Secrets to Being Happy and Staying Happy. According to the author, true happiness comes from within, and originates in how we view our world. Gigi lays out this revolutionary (and remarkably easy to follow) philosophy in her book, which challenges the age-old saying "the glass is half full" by saying "the glass is full", no matter which way you view the glass.
"I wrote this book to share with others the key difference between a truly happy person and everyone else," says Gigi. "Anyone, from any walk of life, can change their life and be happy - all it takes is to begin the journey."
Drawn from the author's own life experiences and challenging journey to personal happiness, The Glass is Full is a pioneering and eye-opening novel for anyone who has longed for a better way of life, a more positive future and a higher level of personal fulfillment.
Readers will learn that it is they themselves who control how happy they are, and will change the way they view their careers, their families, and their lives with this unique and inspiring roadmap to true joy and fulfillment.
For more information, visit http://www.balboapress.com.
The Glass Is Full: The Secrets to Being Happy and Staying Happy
By Gigi G.
ISBN: 978-1-4525-5846-2
Softcover, retail price: $17.99
E-book price: $5.99
About the author
With first-class honors degrees in psychology and in law, and eighteen years of practice as an attorney in Australia - mainly in criminal defense - Gigi G. has drawn on all her experiences in life, studies, and work to share her take on what makes people happy.
# # #