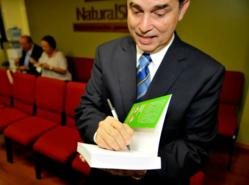 We are not all the same. One diet is not the correct diet for everyone. There are factors that affect your metabolism beyond calorie counting.
San Juan, Puerto Rico (PRWEB) December 29, 2012
A new article written by metabolism expert Frank Suarez suggests that purines, a component contained in proteins, are a key to weight loss. In his book, The Power of Your Metabolism, Suarez identifies two distinct types of overweight bodies: one which could be operating with a tendency towards a sympathetic or "Excited" nervous system or the other type which could be operating with a tendency towards a parasympathetic or "Passive" nervous system.
The diet recommendations he makes to his clients now depend on whether a person's nervous system is found to be EXCITED or PASSIVE, a new piece of technology recently added to his metabolism recovery program. Certain characteristics for each type are listed in his book.
Characteristics for the Excited type include:
1. has trouble digesting red meats
2. has trouble digesting when eating late at night
3. eating late at night causes trouble sleeping
4. has very light sleep, suffers insomnia
5. saturated fats don't sit well with this type
Characteristics of the Passive type include:
1. can easily digests red meats and its consumption increases energy
2. saturated fats are easily digested and create a feeling of well-being
2. can digests foods well even when eating late at night
3. has no problem conceiving sleep even when eating late at night
4. has a very deep sleep and does not wake up at the "slightest noise"
His book details that an Excited type should eat more white meat, vegetables, and potassium-rich foods and avoid red meats and salt or salty foods; a Passive Type can have red meats, salt and more fatty fish. In his newest article he sheds new light into the distinction between proteins high in purines and proteins with less purine content.
Purines are proteins with a high content of nitrogen and are in fact, very alkaline. He recommends that those with a Passive nervous system should eat foods high in purine content to assist their metabolism and those with an Excited nervous system should avoid foods with a high purine content, also to assist their metabolism and get rid of excess fat.
He recommends the following dietary regimen for Excited nervous system types:
1. rich in complex carbohydrates
2. low-fat
3. modest intake of proteins
4. low salt
5. avoid proteins high in purine (high in nitrogen content such as red meats, salmon, sardines, pork, and spinach, asparagus, and mushrooms)
To the delight of many who may be in the Excited category, he approves of coffee, but claims that coffee negatively impacts the Passive type.
As for a dietary regimen for the Passive type:
1. red meats and proteins high in purines (such as liver, tongue, pork ribs, bacon, and dark meats) are highly recommended
2. mushrooms are highly recommended
3. avocado and olives are permitted, but citrus fruits should be avoided
4. milk, creams and eggs are allowed
5. avoid grains, coffee and sugar
Although his article is intended to assist weight loss, he goes on to explain the relationship between the metabolic dysfunction that can occur when the nervous system in not taken into account and the various mental afflictions that are too common now days.
"Chaos and the degeneration of the body and health come about with an excess of movement or a deficiency of movement," the author states, "when your metabolism fails to produce sufficient energy, the functioning of the entire body is affected including the endocrine, immune and digestive system and even the quality of your sleep and more importantly your MIND and EMOTIONAL state are negatively affected."
Other doctors, such as Dr. George Watson and his student Rudolf A. Wiley Ph.D have conducted similar studies in the past where mental patients with psychosis, neurosis, ADD, ADHD or phobias were submitted to nutritional changes that took into account their "metabolic type" and reported marked improvements within days of starting the treatment as explained in Watson's book "Nutrition and Your Mind".
The idea that the cycle of energy production from the metabolism requires certain basic vitamins and minerals to occur is not new. What is new is the ease of explanations offered by Suarez that these food choices could assist not only to tackle obesity, but in the areas of the mind, specifically depression.
He states, "It has been found that certain mental illnesses are a reflection of a disorderly metabolism, mainly involved with a deficient functioning of the enzymes in the body. Two people, both presenting symptoms of severe anxiety, could reflect the anxiety for exactly opposite reasons where one could have a very Excited nervous system and the other a very Passive nervous system."
His staff of Certified Metabolism Consultants confirm that taking these specifics regarding purines into account, following the 2 x 1 Diet™ and other recommendations detailed in his book The Power of Your Metabolism, a person can recover his or her metabolism and experience marked improvement.