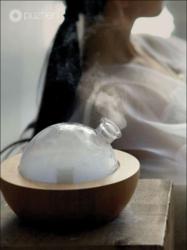 "This kind of explosive growth is really unprecedented for any company, much less in a traditionally niche market like aromatherapy."
New York, NY (PRWEB) December 11, 2012
In a few short months, Puzhen Life USA has gained placement in prestigious New York Hotels and Spas including The Mandarin Oriental, The Four Seasons and The Peninsula. This holiday season Puzhen Life USA's line of aroma diffusers and essential oils can be the perfect gift for that hard to shop for friend or family member looking to relax and create a sense of balance in their lives.
"This kind of explosive growth is really unprecedented for any company, much less in a traditionally niche market like aromatherapy," said Craig London, Puzhen Life USA's North American Sales and Marketing Manager. "We really couldn't be happier to be working with such marquee brands."
While the move into high-end luxury hotels and spas has been satisfying, Puzhen Life USA aims for a strong brand presence throughout the United States market. "We're looking at retail stores next. It will complement our online presence in places like Brookstone and Amazon nicely," London said. "The holidays are a great time to shop and gain exposure to a variety of people. We think New York and these hotels and spas are a great place for that."
Established in 1995, Puzhen Life USA introduced the Lotus Diffuser, the world's first ultrasonic aroma diffuser. A line of high-end essential oils from France, rare organic Chinese teas and hand-crafted ceramics followed. Puzhen aims to restore simplicity, purity and harmony to everyday life. Puzhen Life USA products provide balance and relieve stress by combining traditional Chinese culture and modern science. Puzhen Life USA aroma diffusers help you achieve equilibrium of body, mind and spirit.
Puzhen Life USA ultrasonic diffusers are now featured in the Mandarin Oriental Hotel and the Peninsula Hotel in New York City. They can be found online at Amazon, OpenSky, Brookstone and Drugstore.com. To learn more visit: http://www.Puzhen.com