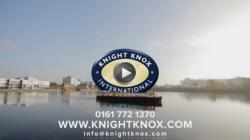 (PRWEB UK) 20 December 2012
Uniquely positioned as a sales and marketing firm for global property investments, the corporate video has been designed as a visual tool to explain the company's position in the market, and the investment opportunities and services it provides, in over 50 countries around the world.
Watch the Knight Knox International Corporate Video
A Limited Company since 2004, Knight Knox International has an excellent reputation within the property industry; both selling and marketing various investment opportunities to the global market.
The current trend of creating visual representations for off-plan properties has soared of late, particularly in the student accommodation and buy-to-let sectors, both of which Knight Knox International is considered a specialist in.
"Video marketing has always been part of our business strategy", comments Jeremy Knight, Knight Knox International's Managing Director. "The launch of our new website in August this year has provided us with a fantastic vehicle to showcase these videos, allowing us to provide potential investors with a visual representation of, not just the property they are potential buying, but of the company they are buying it from".
In addition to the corporate and product related videos, the company has also started work on a range of investment guides which will explain the concept behind different investment scenarios, including student accommodation, residential buy-to-let and land banking, as well as providing information and guidance on buying property overseas in popular countries like Thailand, Turkey and the USA.
"Whilst we are aware that the majority of our clients are extremely knowledgeable in regards to property investments, we wanted to take the opportunity to explain certain key concepts and assist people in making informed decisions" explains Knight.
The new range of investment videos are already in production, with the first concept on Student Accommodation due for release in February 2013.
Knight Knox International
Market leaders in worldwide property investments, Knight Knox International offers an extensive range of property and services on a global scale, from beach-front condos in Thailand and Turkey, to prime coastal land in Florida and boutique student accommodation and new-build residential projects in the UK.
If you would like to discuss further opportunities within the property market, please contact Knight Knox International on +44 (0)161 772 1370 or visit the website to view the full range of properties available.