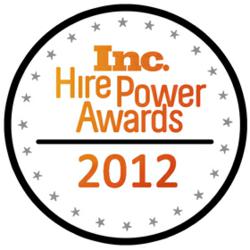 Dallas, TX (PRWEB) December 11, 2012
Bottle Rocket Apps, a mobile application development firm, has been featured in the inaugural ranking of Inc.'s Hire Power Awards, recognizing the private businesses that have generated the most jobs in the past three years.
Inc. ranked Bottle Rocket seventh for three-year job growth percentage among companies that had up to only 10 employees in 2008. Bottle Rocket's growth during the three-year span, from one employee in 2008 to 58 in 2011, equates to a 2,800 percent increase in jobs. They have since more than doubled in size and currently employ 109 people.
"Our business growth and success has resulted from our commitment since day one to specialize in custom, high-end mobile apps that set the industry standard and make our clients more successful," said Calvin Carter, founder and president of Bottle Rocket Apps. "While we have enjoyed significant success, we are very careful and strategic with regard to company growth. We intend to grow at a pace that is comfortable and allows us to maintain our high standards, incredible team chemistry and passion."
Bottle Rocket was previously recognized in 2012 Inc. 500 rankings, including third among "Top Software Companies," seventh among "Top Companies in Texas" and third among "Top Companies in the Dallas Metro Area."
"The top 100 companies on the Hire Power list have created 73,032 American jobs in the three-year period from 2008 to 2011 – an amazing feat, given that much of that job growth came during the heart of the recession," said Eric Schurenberg, Inc. editor-in-chief. "And it isn't just the big guys that are adding jobs. Companies with less than $50 million in annual revenue make up nearly one-third of the Hire Power list."
The inaugural Inc. Hire Power Awards are sponsored by Bank of America Merrill Lynch.
About Bottle Rocket
Bottle Rocket Apps (http://www.bottlerocketapps.com) is a full-service mobile app development firm, focused on creating handcrafted apps for the world's most discriminating brands. Since its founding in early 2008, Bottle Rocket Apps has developed more than 80 iPhone, iPad and Android apps for leading brands such as A&E Television NPR, PBS, Disney, ESPN, TBS, TNT, National Geographic, Discovery Channel, BET, SPIN Magazine, Bravo Television and American Express. The company's apps have won numerous industry accolades including multiple Apple Hall of Fame awards, and frequently appear at the top of their categories on the App Store. The team of senior strategists, architects, developers and artists work their magic from the company's offices in Dallas, Texas.
About Inc.
Founded in 1979 and acquired in 2005 by Mansueto Ventures, Inc. is the only major brand dedicated exclusively to owners and managers of growing private companies, with the aim to deliver real solutions for today's innovative company builders. Total monthly audience reach for the brand has grown significantly from 2,000,000 in 2010 to over 6,000,000 today. For more information, visit http://www.inc.com.