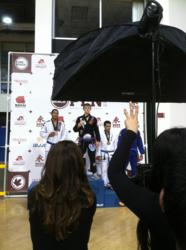 "I just plan on coming in everyday and working to get 1% better. Because the Grand Slams are coming and Europe is first on the menu!"

- Devon Delbrugge
Elkridge, MD (PRWEB) December 10, 2012
Local Brazilian Jiu-Jitsu wünder kid Devon Delbrugge made another visit to the University of California – Long Beach Pyramid for the IBJJF Long Beach International Open where he went 7-0 and collected two Gold medals.
Devon Delbrugge, a freshman at Howard County Community College has been on tear. Before his successful foray in Long Beach, Delbrugge was victorious at the No-Gi World Championships where he also collected two Gold medals.
Both the Long Beach Open and the No-Gi World Championships are run by the International Brazilian Jiu-Jitsu Federation (IBJJF), considered to be the governing body of these type of grappling martial arts events.
As a full-time competitor Devon is used to a hectic schedule. But this competition came as a surprise. "After No-Gi Worlds the competition scene is pretty barren. So, I just assumed my next tournament would be the European Open. But a couple weeks ago, my Coach, Julius Park told me to get a plane ticket for L.A. Then it was off to the Long Beach Open."
Devon, with his impressive performances as of late, is on the short-list for best Blue Belt in the world. As a matter of fact, Devon's mantra for this upcoming season is "I'm the best Blue Belt in the World, I just have to prove it." His display of grappling from this weekend gave physical manifestation to that mantra.
Devon started his day off by taking the Middleweight division by storm. He made quick work of his first opponent with a choke from the back. The next match was a squeaker, but he pulled out the W with a 3-advantage edge. Then, Devon took home the Gold with a spectacular back attack submission.
Next on the agenda was the Open (All-Weights category). Devon is in the Middleweight division, but still competes in the Open division. This is a rarity, especially at the upper ranks.
In his first math of the Open, Devon tallied up the points in a 6-0 smashing. For his next match, Devon got a step-over choke finish from side control. The finals were a nail biting spectacular which saw "Demonstrator" taking home a hard-fought one-advantage victory against the 2011 Pan Am Bronze Medalist.
When asked about his future plans, Devon said, "I just plan on coming in everyday and working to get 1% better. Because the Grand Slams are coming and Europe is first on the menu!"
Devon Delbrugge trains out of Crazy 88 Brazilian Jiu-JItsu, located in Elkridge MD. http://www.BaltimoreMixedMartialArts.com