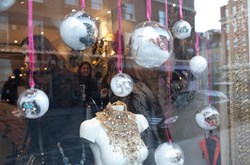 We put together a Christmas gift guide, to help shoppers with some great ideas for this festive season.
(PRWEB UK) 11 December 2012
Savvy Christmas shoppers can get great gift ideas for women from shops in Mayfair and Belgravia thanks to a new guide from Grosvenor.
Grosvenor manages property in Belgravia and Mayfair, where some of the UK's most stylish shops are based.
The group has produced a guide to Christmas Gifts for women at http://www.grosvenorlondon.com/Christmas_in_Mayfair_and_Belgravia/Pages/Christmas_gift_guide_for_women.aspx which are available from stores in the area, to help give Christmas shoppers in London some inspirational ideas to wow the women in their life.
"Shopping in London is great all-year-round, but at Christmas, a lot of shops really come into their own," said Helen Franks from Grosvenor's London estate team.
"Getting gifts for women can be a taxing task: it's not enough to grab some chocolates or flowers and expect that to be enough.
"There are some excellent gifts for her available in Mayfair and Belgravia, and that's why we put together a Christmas gift guide, to help shoppers with some great ideas for this festive season."
The gift ideas for women selected by Grosvenor include gold rings, perfume, and classy Christmas puddings – all available at shops in Mayfair and Belgravia.
Mayfair is home to shops like Marc Jacobs, Christian Louboutin, Balenciaga and Lanvin, whilst Belgravia hosts Carolina Bucci, Daylesford Organic and Mosimann's.
Ideas featured in the Christmas Gift guide cater for all interests and budgets, from under £50 to over £1,000.
They include:

A classy Christmas pudding, available from Mosimann's in West Halkin Street, for £15.
Six Christmas crackers, from Daylesford Organic in Pimlico Road, for £39
Ebury Street eau de parfum for women, available from Floris in Ebury Street, for £139.
50ml of Interlude eau de parfum for women, from Amouage in Lowndes Street, available for £155
18k gold Mirador rings, from Carolina Bucci in Motcomb Street, available for £290 each
A Canestro cashmere throw, from L&B in Motcomb Street, available for £1,400
A forbidden fruit ring, from Stephen Webster in Mount Street, worth £11,250
Mayfair and Belgravia are world-renowned shopping destinations: so even if Grosvenor's gift selection doesn't ring your Christmas bell, visitors to London this Christmas are sure to enjoy a memorable shopping experience: even if they're just browsing.
ENDS
Notes to editors:
For more information on Grosvenor, please contact Tania McNally, Amber Greenwood, Tamarisk Saunders-Davis or Sophie Wilkinson at LUCHFORD APM on +44(0)20 7631 1000, or email firstname(dot)lastname(at)luchfordapm(dot)com.
About Grosvenor
Grosvenor London is a private property group, which manages more than 300 acres across some of London's most distinguished areas. Grosvenor London has a portfolio of high quality retail and shopping properties, as well as private property in Mayfair and Belgravia. It is home to some of London's finest destinations: boasting some of the capital's best dinners at top London restaurants in Belgravia, alongside world-famous shops in Mayfair. The area is characterised by stunning aristocratic architecture, which is idiosyncratic to both Mayfair apartments and flats in Belgravia.