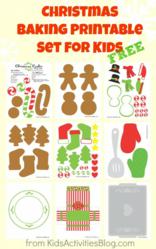 Play pretend Christmas Bakery with adorable Christmas templates.
Dallas, Texas (PRWEB) December 16, 2012
Adorable cute Christmas printables are currently featured on Kids Activities Blog. The Christmas printables are perfect for a creative at home afternoon activity or for a school Christmas party.
The shapes include Christmas cookies, Christmas themed paper plates, candy canes, Christmas trees, stockings and many more Holiday related items perfect for an afternoon of playing pretend Christmas bakery. The adorable cut outs turn into a game of baking cookies and making candies to serve them on cute paper plate cut outs for family and friends.
Other cute Christmas themed templates currently featured on Kids Activities Blog include an artistic set of Christmas coloring pages. These pages are adorable and can turn into artistic masterpieces by following one of the super creative ideas listed on Kids Activities Blog.
The creative ideas list anything but markers to color the Christmas coloring pages. Alternative ideas to put color into the templates include tracing the outlines with color glue or using grains and seeds to fill in the spaces. One of the kids favorite ideas is using flat colorful marbles to fill in the templates. These pages will also make beautiful Christmas themed place mats for any kid themed Holiday Party.
These and many more free Holiday templates are available on Kids Activities Blog during the month of December. Come check them out and get the kids inspired to make a Christmas masterpiece this season.
About Kids Activities Blog
Kids Activities Blog is a website created by two moms (who collectively have 9 children), Rachel Miller and Holly Homer from June Cleaver Nirvana. It is their daily goal to inspire parents and teachers to play with kids. This interactive website publishes simple things to do with kids twice a day. Kids Activities Blog is a great tool for moms and teachers to find kid-friendly activities that create memories and sneak learning into the fun.