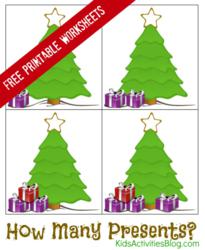 Lots of fun festive math activities that do not feel like math lessons are listed on Kids Activities Blog.
Dallas, Texas (PRWEB) December 18, 2012
Festive Christmas math worksheets are perfect for preschool math learning during the holidays. Kids Activities Blog offers tons of fun festive activities that involve lesson learning during December.
The math sheets are fun and simple to fill out. Kids have to count the number of packages under the Christmas tree and then add the correct number star on the top of the tree. During the holidays this is an easy math game to play. Doing a live version of these worksheets under the Christmas tree will not feel like a math lesson at all.
Additional learning to count preschool math activities are listed on Kids Activities Blog. Dominoes can also turn into a fun preschool math lesson. Although preschoolers are not ready to play the actual game, the toddlers can use the tiles as a fun learning math tool. Counting the dots on the tiles, matching the correct numbered tiles, building letters and all sorts of shapes, and building a 3-D tower with stacks on top of each other will foster fine motor and spatial skills. The imagination has no limits.
For these and other fun festive learning to count activities check out Kids Activities Blog during the month of December.
About Kids Activities Blog
Kids Activities Blog is a website created by two moms (who collectively have 9 children), Rachel Miller and Holly Homer from June Cleaver Nirvana. It is their daily goal to inspire parents and teachers to play with kids. This interactive website publishes simple things to do with kids twice a day. Kids Activities Blog is a great tool for moms and teachers to find kid-friendly activities that create memories and sneak learning into the fun.