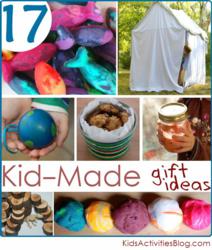 Inspire the kids to make a homemade gift for family and friends using their imagination.
Dallas, Texas (PRWEB) December 19, 2012
Christmas gifts mean so much more when they are homemade. The homemade Christmas gift turns into something personal and the kids love to create things using their imagination.
Kids Activities Blog features the top 100 mom approved gifts kids can make for family and friends. Melting crayons and creating new shapes will make a perfect kid to kid Christmas present. Simply add a little notebook it turns into a treasured creative homemade gift.
Other ingenious gift ideas are creating a tent kit out of PVC pipes and fabric, using homemade silly putty or play dough to build a yo-yo, or making a cool treat soap by adding small toys inside the soap bar.
Additional homemade gifts for kids ideas are making a cool indoor swing, building an outdoor kitchen for kids to create mud pies, making yummy cake in a jar gifts, making a Jenga game out of sponges, writing a coupon book with activities the family can do together, creating a set of building toys out of cardboard paper, and making a homemade goop kit. The list is endless.
Get the kids inspired to make some homemade cool gifts for family and friends. Check out the complete list on Kids Activities Blog this holiday season.
About Kids Activities Blog
Kids Activities Blog is a website created by two moms (who collectively have 9 children), Rachel Miller and Holly Homer from June Cleaver Nirvana. It is their daily goal to inspire parents and teachers to play with kids. This interactive website publishes simple things to do with kids twice a day. Kids Activities Blog is a great tool for moms and teachers to find kid-friendly activities that create memories and sneak learning into the fun.