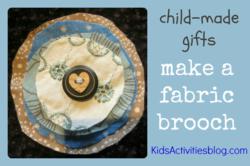 Kid made gifts create lasting keepsakes for years to come.
Dallas, Texas (PRWEB) December 21, 2012
Adorable easy to make homemade Christmas gift ideas kids can make for family and friends are featured on Kids Activities Blog this December. These kid made gifts make treasured keepsakes for years to come.
The three essential requirements for a perfect kid made homemade gift are that the gift has to be easily created by kids hands, the gift needs to encourage the child to think about the recipient to personalize the gift to suit the recipient, and the creation needs to be overall appealing.
Kids Activities Blog currently features two simple gift ideas kids can make that fit these three essential requirements. The DIY Brooches make a perfect gift for a relative or friend. Materials needed to make the brooches are a few pieces of fabric, a sewing needle and thread, and a brooch clip. Buttons, beads, and sequins make nice extras.
First pick out the fabric and think together about what the gift recipient likes to wear or what her favorite color is. Once the kids have decided about the fabric, cut out brooch shapes, such as circles or hearts. Cut out four to five pieces that are getting smaller and smaller. Layer the fabric on top of each other and fasten them together using a few simple stitches. Adding a button, bead, or sequins finishes the brooch of well.
Additional easy gifts kids can make ideas include making a sweet photo key chain. Materials needed are old fashioned bottles caps, glue, paper clips, felt, key chain rings, and of course some cute photos of the kids.
Using the bottle caps, trace around the faces of the kids on the photo. Cut them out and glue them inside the bottle caps. Then glue a paper clip on the outside of the bottle cap and cover it with a piece of felt. Finally, attach the key chain ring and ready is the sweet photo key chain.
For complete instructions check out Kids Activities Blog.
About Kids Activities Blog
Kids Activities Blog is a website created by two moms (who collectively have 9 children), Rachel Miller and Holly Homer from June Cleaver Nirvana. It is their daily goal to inspire parents and teachers to play with kids. This interactive website publishes simple things to do with kids twice a day. Kids Activities Blog is a great tool for moms and teachers to find kid-friendly activities that create memories and sneak learning into the fun.