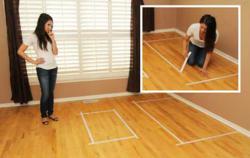 The ideal project lay out tape that allows you to work faster and more accurately in all Do-It-Yourself Projects.
Toronto, Ontario Canada (PRWEB) December 11, 2012
"We are delighted to be selling Measure-It! It is a great new product that will have broad appeal to anyone who tackles DIY projects – renovations or decorating- in their homes. Because it has many possible uses, we are confident that mass merchandisers will be a strong channel for Measure-It! People will make it a staple item in their tool boxes, kitchen drawers, desks and hobby tables." said Randy Beard, a partner at Retail Complete LLC.
The owners of Retail Complete, with offices in Canada and the US, have long established relationships with key national retailers such as Walmart and Walgreens.
Applied to the wall, floor or almost any other surface, Measure-It! leaves the DIY'ers hands free when tackling their home renovation and home decorating projects to mark, drill, cut, hang etc. It allows them to complete the project quickly and accurately and can be removed without leaving a mark.
Measure-It! tape is very simple to use and can be helpful for many jobs including:

Hanging blinds or pictures
Painting
Room Layout
Drilling/cutting
Fabric measurement
Arts and crafts
Measure-It! can be used for almost any job where measurement is required. The tape peels off the roll like a normal household tape with a repeating 12 inch measure. The tape is low tack, which allows it to be repositioned several times if necessary. Measure-It! can be marked with a pen, pencil or marker, torn off where needed, and is recyclable.
Measure-It! is currently available in 34 stores in 6 Provinces in Canada as well as 17 stores in 13 States.
For Measure-It! Canadian sales inquiries, contact John Burke at Dynamic Paint Products Inc: 905 812 9319 x325 or email jburke @ dynamicpaitware.ca. For US mass merchandiser inquiries, contact Randy Beard of Retail Complete at 479 366 0275 or email randala @ cox.net. BMG strives to introduce high quality consumer products to new markets. Contact BMG at 1 855 349-8273 or visit measureittape.com