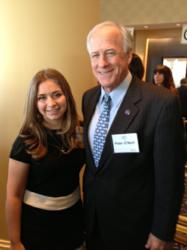 I was looking for a key to a locked box that was just beyond my reach
Owings Mills, MD (PRWEB) December 12, 2012
In 2005, when Garrison Forest School Senior Sarah Hill was ten years old, she asked her doctor about JIA Uveitis, an inflammatory condition of the eye caused by the auto-immune disease Juvenile Idiopathic Arthritis (JIA) that she had been diagnosed with as a toddler. Sarah is one of more than 294,000 kids living with JIA and one of 18% of those who developed Uveitis as a result (about 10% of kids with JIA Uveitis will lose their vision by adulthood). Sarah wanted to know more about other children living with JIA Uveitis and their futures. Would she, and other children like her, be able to see in the future?
Sarah's doctor didn't have answers to all of her questions at the time, but he challenged her: "He said I could do something to help my peers and myself," Sarah said. "Education and research, he told me, were the answers…if I raised money he would support me by collecting data, performing research and educating other doctors."
Sarah took the challenge. In July of that same year, Sarah founded Kids Uveitis Research and Education (K.U.R.E) at the Wilmer Eye Institute at John's Hopkins Hospital with her doctor's help. Her early fundraising efforts included writing letters to friends and family on the family's Christmas list asking them to donate money to aid in her mission in helping kids with JIA to grow up without losing their eyesight. Seven years later, K.U.R.E has raised more than $140,000, for research and education and has funded several medical conferences in New York and Los Angeles to provide educational outreach to patients, their families and to the medical community.
In November, the Association of Fundraising Professionals Maryland honored Sarah by awarding her the 2012 Outstanding Youth Fundraiser Award on National Philanthropy Day in Maryland. Speaking in front of a crowd of 800 guests, Sarah spoke about K.U.R.E's creation, and that in her early letters to raise money she told people: "I was looking for a key to a locked box that was just beyond my reach." In May of this year, Sarah helped organize a dodge ball tournament to benefit K.U.R. E. at Garrison Forest School. More than 60 students participated in the tournament and the event raised more than $1,000.
Sarah's healthcare advocacy extends far beyond her work with K.U.R.E. Earlier this year, AmeriCorps presented Sarah with an AmeriCorps Education Award for her 300 hours of volunteer service at Baltimore's Charm City Clinic, a healthcare clinic assisting underserved city residents with healthcare access, where she volunteered in the summer of 2012. In the summer of 2011, Sarah traveled as one of Garrison Forest School's Jenkins Fellows to the Dominican Republic to provide health services to children with HIV/AIDS.
This year, Sarah is continuing her connection with Johns Hopkins as one of the first two Classics students in a research mentorship inspired by the GFS/Hopkins Women in Science and Engineering (WISE) partnership. She hopes to combine her love of Latin with her passion for public health by majoring in the Classics and Public Health next fall when she begins college.