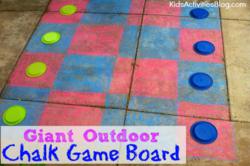 Play family classics on a giant homemade chalkboard.
Dallas, Texas (PRWEB) December 26, 2012
Holiday time is family game time. The latest family games are featured on Kids Activities Blog. Family games bring loved ones together for laughter and fun.
How about playing family favorites such as checkers on a homemade giant chalkboard? Simply draw a giant checkerboard pattern outside. The amount of squares do not have to match exactly the board game since rules can be made according to the games played.
The giant chalkboard can be used to play many different kinds of games such as a game of knowledge, a leap-frog race, a game of trivia, and many more. For the classic checkers game, paper plates can be used to mark the spots.
Other fun creative chalk drawings can be drawn for a fun family afternoon. Kids love to draw faces. Simply draw a big circle and let the kids decide to decorate the face with sticks, rocks, yarn, pipe cleaners, or lids. The list is endless.
Check out Kids Activities Blog for a complete list of fun family games for this holiday season. Get the kids and adults together to create laughter and to make cherished memories for years to come.
About Kids Activities Blog
Kids Activities Blog is a website created by two moms (who collectively have 9 children), Rachel Miller and Holly Homer from June Cleaver Nirvana. It is their daily goal to inspire parents and teachers to play with kids. This interactive website publishes simple things to do with kids twice a day. Kids Activities Blog is a great tool for moms and teachers to find kid-friendly activities that create memories and sneak learning into the fun.