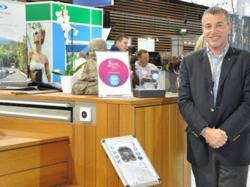 Vista, CA (PRWEB) December 12, 2012
Dimension One Spas (D1) won the "Top 100" Fitness Award at the World Pool and Spa Expo in Lyon, France this November. The prize winning model was the AquaFit Sport 13. This 13 foot swim spa offers the most for the serious athlete with the largest swim lane in its class, powerful swim jets, six strength building stations and an optional UltraPure water management system.
Only 10 companies won the "Top 100" award in various categories including water treatment, outdoor furniture, lighting and installation. Judging for the award was decided by a professional jury and based on major innovations from a pool of 100 new products.
We are proud to win the distinguished "Top 100" award for the AquaFit Sport 13," said James Hedgecock, COO. "We've worked really hard to develop a smaller aquatic fitness system at a value price point while still maintaining the performance expectations of the AquaFit line."
D1's AquaFit line of swim spas continues to lead the industry in design and performance with enhanced features including new lighting and stereo options, new high performance swim jets and competitive pricing. The AquaFit Sport 13 and AquaFit Pro 19 offer a more health/fitness focused experience for swimming, jogging, stretching, lifting or rowing. The AquaFit Play 16 and AquaFit Plus 19 offer a more family/fun experience and are often used as a pool replacement.
###
About Dimension One Spas
Dimension One Spas (D1), founded in 1977, is the industry leader in designing and manufacturing luxury home hydrotherapy and aquatic fitness products. The family-owned business has combined its innovations in materials, science and water handling technology to bring customers the most advanced spas in the world-- engineered to rejuvenate both body and mind. D1 has created a benchmark for quality and innovation with a focus on consumer's preferences, offering four distinct high performance collections. Please visit http://www.d1spas.com for more information.