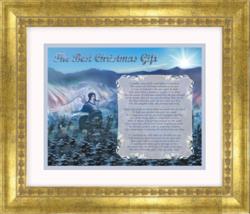 These words and art will touch your heart and challenge you to make a difference for someone every day.
Naples, Florida (PRWEB) December 28, 2012
Christmas Poems that Keep on Giving Every Day of Every Year...
The best Christmas gifts do not come in a box
Not the tangible items like jewelry and socks.
They come from our heart when we reach out our hand
And help one another wherever we stand
-- from "The Best Christmas Gift," by Ruth Kuttler
"All year round – but especially during the holidays – people hunger for authenticity," says Visions in Verse creator Ruth Kuttler. "Maybe it's the hustle and rush of the season, but so many of us risk losing our perspective on what the joy of Christmas is really about."
For 2012 and in the coming year, giving new meaning to Christmas poems is a work of art that seeks to bring more heart and soul into the season and beyond. "The Best Christmas Gift" is an original Christmas poem presented in a high-quality setting of each buyer's choosing. Suitable for gifting to others – or to display in one's own home – this professionally produced Christmas poem joins a line of inspirational wall art messages and poetry produced by Kuttler.
From families reading heartfelt Christmas poems around the holiday table or upon gazing at the artwork on display within their home, the words in this poem make a lasting impression - a reminder to "Be the peace that we wish for and make a difference all year long," Kuttler says.
The inspirational Christmas poems and stories written by Kuttler are meant to impart joy and hope that uplifts, inspires, heals and nurtures the heart and soul. "These words will touch your heart and challenge you to make a difference for someone every day," says Kuttler.
Generations of Value
"The Best Christmas Gift" is one of a unique collection designed as a keepsake-value piece of inspirational wall art - a treasure that may adorn a home all year round, or be passed from one generation to the next. The Christmas poem within the originally created graphic artwork comes from "Visions in Verse," a book of healing inspirational poems and messages exclusively written and designed by Ruth Kuttler.
Her book, notes Kuttler, is meant to make a difference in people's lives. "Customers love the words and often say it is life changing," she says. "Many people buy multiple books for gift giving throughout the year."
Customized creation
From Christmas poems such as "The Best Christmas Gift" to the Visions in Verse book and full line of inspirational wall art, customers are able to create their own gift right online. At Visions in Verse gallery, shoppers may browse from an array of illustrated poems, then select the size and the way they want it delivered – including formats like downloadable art, high-quality prints, and prints on canvas.
Each customer may also select the kind of frame and matte to best showcase their art keepsake in the home. From the in-store framing and double-matting to the customized choices within the FRAME IT gallery, customers can control and select every detail of their purchase and see how it looks before they pay for it – a rare advantage in online retailing.
The brainchild – and the passion – of creator and founder Ruth Kuttler, Visions in Verse combines original poetry, stories and graphic art with the goal of providing insight and inspiration for people when they need it most. The online company creates books, poems, graphics and other special gifts to celebrate life events or provide hope and healing to individuals who need it most. Topics include Christmas, Wedding, Graduation, Overcoming Adversity, Mother's Day, Grandmother, Mother-Daughter, Valentine's Day, Friendship, Bereavement, and Spirituality. Find more information at the Visions in Verse website.
Visions in Verse may be the greatest gift one can give him or herself or to those they care about. Kuttler says, "The right words and/or art can change a life but only if it is seen, valued and shared beginning with "The Best Christmas Gift."