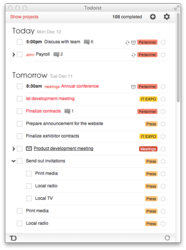 Desktop platforms are far from dying and our newest apps are a stepping stone to bring Todoist everywhere. Using HTML5 technology our users don't need to learn another interface and they can get all the benefits from a desktop app
Santiago de Chile (PRWEB) December 12, 2012
Today, Todoist announces the release of a new set of to-do list applications for Windows and Mac computers which increases its total number available platforms to nine. The popular task manager service, used by over 400,000 people, will now be available to download on each desktop or laptop device as individually functioning applications.
Constructed upon the innovative HTML5 technology, the new Todoist computer apps will provide users permanent, extremely rapid, and instant access to their task manager with global shortcuts and tray/status menu icons. With the same powerful features and general look as the web version of Todoist, users won't have to learn any new interface and will be able to fluidly jump from one to the other. Another key aspect of Todoist for Windows and Mac is that it automatically synchronizes with all other devices and platforms, and automatically updates itself to the latest version of Todoist.
"Desktop platforms are far from dying and our newest apps are a stepping stone to bring Todoist everywhere. Using HTML5 technology our users don't need to learn another interface and they can get all the benefits from a desktop app like offline access, keyboard shortcuts, etc," affirms Amir Salihefendic, the founder of Todoist.
Most recently, Todoist has been in the news following the much anticipated release of its first native mobile apps for iPhone and Android. Outlets like The Next Web, The Guardian, Android Authority, and Phandroid lauded the new to-do list apps for their simple yet very high-powered usability.
For more information about Todoist, please visit:
Todoist for Windows: http://todoist.com/windows | Todoist for Mac: http://todoist.com/mac
Screenshots and logos (Zip file):
About Todoist
One of the first available task-management softwares on the market, Todoist, launched in 2007, is a powerful task manager for personal productivity that lets users manage tasks from their inbox, browser, desktop, or mobile device. Used by over 400,000 people (many from Fortune 100 Companies like IBM, Oracle, and HP), Todoist is proof that amazing technology can be built outside of Silicon Valley by focusing on staying lean, working virtually and finding amazing talent around the world.
Press Contact | Amir Salihefendic | amir[at]todoist[dot]com | +1-866-329-1530