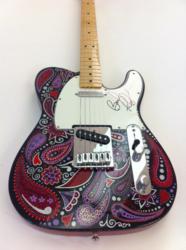 "I've wanted to paint a paisley telecaster for a long time and Sweet
Relief provided the perfect opportunity. Having Brad Paisley sign was just so perfect" Sarah Gallenberger
Fullerton, CA (PRWEB) December 10, 2012
Sweet Relief Musicians Fund is doing their part to assist Hurricane Sandy Relief and have signed up some world renowned artists for an online auction ending on Tuesday, Dec. 11th. Signed guitars have been donated by Neil Young, Peter Frampton, Ritchie Blackmore, Johhny Depp, Chris Cornell, Andy Summers, Brad Paisley, Nikki Sixx and Macy Gray.
Sweet Relie facilitates monthly auctions to raise money for musicians battling illness and disability. This month's auction will focus on artists who were affected by Hurricane Sand.
Sweet Relief's Director of Development, Aric Steinberg stated, "Hurricane Sandy devastated the lives and careers of hundreds of professional musicians. We received so many applications for assistance that we decided to dedicate all of the proceeds from this auction to our Eastern Musicians Fund, which will pay for medical treatments, food cards and other vital living expenses." He added, "We are grateful for the immense support from the participating artists, their donations will help dozens of professional musicians get back on their feet after losing everything to Hurricane Sandy."
The auction can be viewed at online auction house [Charity Buzz
Since 1994 Sweet Relief Musicians Fund has provided assistance to all types of career musicians who are struggling to make ends meet while facing illness, disability, or age-related problems. Grant recipients include recording artists, club and session musicians, composers & songwriters from across the country. Every musical genre is represented including pop, rock, jazz, classical, country, blues, reggae, hip hop and all styles in between. Sweet Relief has served the music community by helping musicians with medical and living expenses including insurance premiums, prescriptions, medical treatment and operative procedures, housing costs, food costs, utilities and other basic necessities.