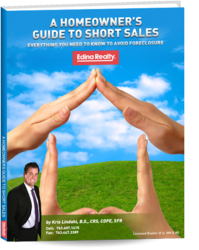 The short sale seminar that I will hold will cover many topics and show people how to use the many online resources that I've created
Blaine, MN (PRWEB) December 11, 2012
The experienced Edina Realty agent Kris Lindahl has announced that he will hold another short sale seminar at the end of this week. "The last two seminars that I've held were standing room only, and I know there were a lot of people turned away at the door because of capacity," Kris Lindahl says, and continues, "I'd like to be able to help as many people as possible so I'm going to hold another short sale seminar at a larger venue."
"It is imperative that people have the best tools and technology to use when it comes to buying or selling a home. That's where I come in, " Kris Lindahl, an experienced real estate agent, says, and continues, "I can guarantee that with me as your agent you will have those tools at your disposal. The short sale seminar that I will hold will cover many topics and show people how to use the many online resources that I've created."
"People are using technology to find the information they are looking for so I have spent months creating websites, e-Books, and videos so it would be easy for people to get the information they need to see if the short sale process is a viable option," the experienced agent Kris Lindahl explains.
Kris Lindahl has recently received the Chairman's Award from Edina Realty for record breaking sales and sales volume year-to-date. "It's a combination of hard work and technological expertise that gives me the edge over other agents across the country," Kris Lindahl says. "It's important to find a capable and experienced agent when dealing with the buying or selling of your home, and in the case of short selling your home then the new national short sale calculator will make sure that you are eligible and have personalized help from me and my team."
"With the large amount of people contacting me every day I want to be able to help as many of them as I possibly can so I've assembled an experienced team to help with all of the people that contact me for help," says Kris Lindhal. The Kris Lindahl Team is made up of several hard working, full-time Edina Realty Realtors and is available seven days a week to take your calls and emails for personalized help.
"I also wrote an e-Book to help people with the process," Kris Lindahl says. The e-Book, titled "A Homeowner's Guide To Short Sales", is a complimentary download and can be found at HomeOwnersGuideToShortSales.com.
Call Kris Lindahl and the Kris Lindahl team at (763) 607-1415 for personalized help and information. Visit the Minnesota Short Sale Calculator to check eligibility. Check out the Kris Lindahl website for additional information.