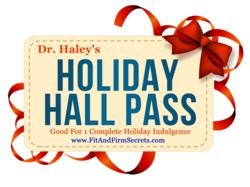 Trying To Follow Your Weight Loss Plan & Diet During the Holidays Can Cause You to Gain More Weight
Vail, CO (PRWEB) December 11, 2012
"Millions of Americans are asking themselves 'how can I still diet' or 'how do I lose weight during the holiday season?' Unfortunately, trying to follow your weight loss plan can actually do more harm than good," says Dr. Haley.
Research conducted by the Journal of Abnormal Psychology "Effects of dietary restraint, obesity and gender on holiday eating behavior and weight gain (1989)", shows:

Americans eat 32% more than their normal diet during the Holiday.
Based on a 2,000 calorie/day diet, the average American will consume an additional 4,480 calories over a one week period.
Each day we have over 200 thoughts about food. These thoughts cause a mental battle, which leads to what Dr. Haley calls a "Food Face-off".
These "Food Face-offs" only escalate during the holidays and can be a nightmare for someone who is trying to follow their weight loss plan. "So don't fight temptation, embrace it," says Dr. Haley. Studies prove the more someone can't have something that's in front of them, the more they want it. "At some point over the holiday, nearly everyone caves and starts emotional eating. Consequently, you'd then consume one-third more than you would have if you had allowed some indulgence in the first place."
The key to enjoying holiday feasts, and still staying healthy, lies "within the power of your mind. As elite athletes claim, your mind can be your worst enemy, or your greatest friend," says Dr. Haley. So does someone win their Food Face-Offs? "Fortunately, there are 5 Holiday Safeguards you can easily follow to indulge guilt free, and still remain healthy. Plus, this will let you emerge from the holiday's happier and healthier than you would have been."
The Biggest Loser winner, Bill Germanakos (Season 4) couldn't agree more. "Everyone of us who knows Dr. Haley is a better person."
To claim your free copy of these 5 Holiday Safeguards, plus access $137 worth of free video tips from Dr. Haley's soon to be released book "How To Lose The Last Ten Pounds and Keep Them Off Forever!" visit http://www.FitandFirmSecrets.com/GetYourPassNow