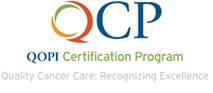 "This certification acknowledges that we provide the highest possible standard of care to our patients."
Peoria, Illinois (PRWEB) December 12, 2012
Illinois CancerCare, P.C., legally known as the Oncology Hematology Associates of Central Illinois, has been recognized by the Quality Oncology Practice Initiative (QOPI®) Certification Program. The QOPI® Certification Program (QCP) provides a three-year certification for outpatient hematology-oncology practices that meet the highest national standards for quality cancer care.
"We at Illinois CancerCare are proud to be a part of a select group of hematology and oncology practices across the US to have received this distinction," said Dr. Pankaj Kumar, Illinois CancerCare physician in Bloomington and Physician Liaison of the Quality Assurance Department. "This certification acknowledges that we provide the highest possible standard of care to our patients."
QOPI is a voluntary, self-assessment and improvement program launched by the American Society of Clinical Oncology in 2006 to help hematology-oncology and medical oncology practices assess the quality of the care they provide to patients. To become certified, Illinois CancerCare submitted an evaluation of the entire practice and documentation standards. The QCP staff and steering group members then verified that the evaluation and documents were correct and that Illinois CancerCare met core standards in all areas of treatment, including:

treatment planning
staff training and education
chemotherapy orders and drug preparation
patient consent and education
safe chemotherapy administration
monitoring and assessment of patient well-being
The QOPI Certification Program (QCP) was launched in January 2010. This certification for outpatient oncology practices is the first program of its kind for oncology in the United States. Oncologists can achieve certification by demonstrating practice consistent with the highest standards of care. The QCP seal designates those practices that not only scored high on the key QOPI quality measures, but meet rigorous safety measures established by ASCO and the Oncology Nursing Society (ONS).
Illinois CancerCare is the largest hematology and oncology practice in central and western Illinois that has met the rigorous standards set forth by QOPI and is the only QOPI certified practice in the Peoria/Bloomington-Normal area. This is a testament of the excellent patient care that it has been providing over the past 3 decades.
"QOPI certification demonstrates the high level of skill in providing chemotherapy and cancer services which has always been a part of Illinois CancerCare," said Dr. Paul Fishkin, Illinois CancerCare Physician and President. "In addition, we are pleased that the QOPI auditors found the same high level of care in our regional clinics, reflecting our commitment to bring the same exceptional level of care everywhere that we practice. This is a true team effort, reflecting physicians, nurses, pharmacists, and our entire support team."
About Illinois CancerCare:
Illinois CancerCare is one of the largest practices in the state of Illinois that treats patients with cancer and blood diseases. It provides state of the art treatments to its patients against these complex diseases by staying at the leading edge of clinical research. Illinois CancerCare is central Illinois' largest network of cancer care specialists with 90-120 open clinical cancer research trials being conducted at any given time. Illinois CancerCare's Community Clinical Oncology Program (CCOP) is one of the nation's top enrollers in clinical trials, ranking 9th, amongst the academic and non-academic practices across US. . Illinois CancerCare has 17 physicians, 16 mid-level providers and more than 230 staff members. Illinois CancerCare serves patients in 13 cities and 12 counties throughout central and western Illinois including Bloomington/Normal, Canton, Carthage, Eureka, Galesburg, Kewanee, Macomb, Monmouth, Ottawa, Pekin, Peoria, Peru and Princeton. For further information please visit http://www.illinoiscancercare.com.
About ASCO:
The American Society of Clinical Oncology (ASCO) is the world's leading professional organization representing physicians who care for people with cancer. With more than 30,000 members, ASCO is committed to improving cancer care through scientific meetings, educational programs and peer-reviewed journals. ASCO is supported by its affiliate organization, the Conquer Cancer Foundation, which funds ground-breaking research and programs that make a tangible difference in the lives of people with cancer. For ASCO information and resources, visit http://www.asco.org. Patient-oriented cancer information is available at http://www.cancer.net.
###