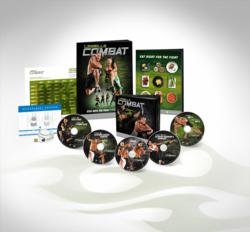 Los Angeles, CA (PRWEB) December 11, 2012
The term "MMA" is more likely to evoke images of caged gladiators at war, rather than tight waistlines and hard beach bodies. But the latest Les Mills-created program from the innovative home exercise leaders at Beachbody aims to change that. In collaboration with Les Mills International, the global leaders in group fitness, Beachbody is bringing Les Mills' popular mixed martial arts-based gym workout, BODYCOMBAT®, directly to consumers' homes with the release of LES MILLS COMBAT.
Responding to the growing Mixed Martial Arts (MMA) interest among fitness-minded consumers, Beachbody tapped into LES MILLS COMBAT master trainers Dan Cohen, a former kickboxing champion and black belt in Lau Gar Chinese boxing and kickboxing, and Rachael Newsham, who studied at the Wing Chun Kung Fu School and practiced Muay Thai in Thailand. Cohen and Newsham, featured in every workout, originally developed BODYCOMBAT® with Les Mills for the gym, but created LES MILLS COMBAT specifically for at-home use.
"The first time I saw a LES MILLS BODYCOMBAT® workout it absolutely blew me away and I knew it would translate well to a home-based workout," said Carl Daikeler, CEO of Beachbody, LLC. "Combining the expertise of Dan and Rachael into the fiercest, most incredibly jaw-dropping workout on the market is something that will benefit consumers of all fitness levels and allow Beachbody to continue to innovate the home-exercise market."
Launched in 1998, BODYCOMBAT® has a presence in 9,000 clubs spanning 80 countries, including 950 in the United States. Led by over 90,000 certified instructors worldwide, the program boasts 500,000 weekly devotees. Following suit, LES MILLS COMBAT combines six popular Martial Arts disciplines – Boxing, Kickboxing/Muay Thai, Taekwondo, Capoeira, Karate and Jiu-Jitsu – into a 60-day program to provide consumers an all-encompassing workout with a dynamic mixture of resistance and aerobic training.
The key to the success of LES MILLS COMBAT is the science-based approach to Martial Arts training. A series of high-intensity sequenced workouts encourage calorie burn and spur a heightened metabolic rate, while growing and developing muscle through fast twitch integration training. Beachbody's latest, innovative at-home program combines a well calculated blend of punches, kicks, blocks and strikes from various Martial Arts disciplines and other fighting genres, to allow for maximum toning, conditioning and fat burning by challenging consumers to unleash their inner warrior.
Available for $59.85, LES MILLS COMBAT is a complete 60-day program including seven body-shredding workouts designed to develop six-pack abs, stronger and more explosive legs and a tighter backside, all while burning up to 1,000 calories per hour. A fitness and nutrition guide is included as well as a tape measure and measurement tracker, allowing consumers to maximize results, follow a detailed eating plan and track their progress. LES MILLS COMBAT's seven extreme workouts include The Basics, Kick Start, Power Kata, Extreme Cardio Fighter, Ultimate Warrior's Workout, Power High Intensity Interval Training 1 and Shock Plyo High Intensity Interval Training 2.
For more information on LES MILLS COMBAT, Beachbody, LLC and its wide array of fitness, beauty and nutritional products visit http://www.beachbody.com.
About Beachbody, LLC
Founded in 1998 by Carl Daikeler and Jon Congdon, Beachbody, LLC, operates Beachbody.com and TeamBeachbody.com. The Santa Monica, California-based company is the creator of the nation's most popular fitness and weight loss solutions including P90X®, Insanity®, Brazil Butt Lift®, Slim in 6®, Turbo Jam®, Hip Hop Abs®, and Power 90® among many others. Beachbody® programs combine challenging DVD-based workouts with easy-to-follow diet guidelines, nutritional supplements (including its breakthrough health shake called Shakeology®, AKA "The Healthiest Meal of the Day®"), and an unparalleled customer service and peer-support system. In fact, Beachbody has expanded this support system through TeamBeachbody.com , which includes a network of thousands of independent "Coach" distributors as well as a dynamic online support and fitness community. The company's expansion into the beauty category includes the popular Derm Exclusive® brand. The corporate mission is to help people achieve their goals and enjoy healthy, fulfilling lives.
About Les Mills International
Les Mills International creates some of the world's most popular group fitness and small team training programs including BODYCOMBAT® (martial arts), BODYPUMP® (weights), RPM® (indoor cycling) and the Les Mills GRIT™ Series. With programs in 14,000 clubs in 80 countries, millions of people every week lose themselves for an hour in the pure exhilaration of Les Mills' fitness class.
The company was born in 1968 in Auckland, New Zealand, where a man named Les Mills, one of New Zealand's greatest track and field competitors, opened his first gym with his wife Colleen. Their son and company CEO Phillip Mills revolutionized the industry with his development of the first LES MILLS™ exercise-to-music programs in the 1980s and remains the driving force behind the creative and technical development of the programs today. Phillip was named Ernst & Young Entrepreneur of the Year in 2004, is a passionate advocate for global sustainability, and in 2007 co-authored the book Fighting Globesity – A Practical Guide to Personal Health and Global Sustainability with his wife Dr Jackie Mills.
Les Mills' 90,000 trained instructors, chart-topping music and cutting-edge choreography come together to create an invigorating exercise experience known around the world, to fulfill the company's aim of helping to create a fitter planet.
Les Mills International operates http://www.lesmills.com, http://www.lesmillsclothing.com, and http://www.facebook.com/lesmills
###