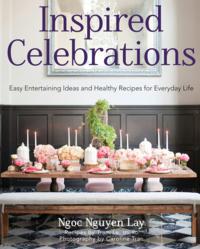 The best gifts of all begin with a great book!
DALLAS, TEXAS (PRWEB) December 17, 2012
Brown Books Publishing Group presents their 2012 Holiday Reading Roundup!.
TIS THE SEASON:
Behind every successful party is a gracious, confident hostess. Ngoc Nguyen Lay, owner of Skybox Event Productions in Southern California, relays the secrets of her success in her new book "Inspired Celebrations: Easy Entertaining Ideas and Healthy Recipes for Everyday Life."
Pam Wenzel brings home a beautiful collection of twenty-two healthy and refreshing spa water recipes in "Spa Water: A Guide to Creating World Class Spa Water at Home."
FOR HISTORY BUFFS:
Bestselling author J.D. Davis, invites readers inside the private lives of "the Killer, the Preacher, and the Cowboy" in his biography "Unconquered: The Saga of Cousins Jerry Lee Lewis, Jimmy Swaggart, and Mickey Gilley." Who knew they were first-cousins?
"The Parks of Colorado Springs: Building Community, Preserving a Legacy," by Nancy Lewis, reveals the history behind the Colorado Springs park system.
Former priest S.J. Tagliareni, explores the Vatican's role in the Holocaust in his novel "Hitler's Priest," offering readers a rare glimpse into the moral conflicts raised by Nazi Germany and the Roman Catholic Church.
Peter B. Gawenda thrilled readers with his first book "The Children's War: Germany 1939-1949." Now he does it again in "Irma's Story: American by Birth, Hispanic by Choice," - a celebration of a once-in-a-lifetime love.
FOR NATURE, MUSIC, PHOTOGRAPHY, AND ART ENTHUSIASTS:
Researcher David Salomon invites readers to meet seventeen penguin species from around the world in "Penguin-Pedia."
Music composer Stephen Arnold offers readers a peek inside his rare collection of guitars with short vignettes about each in "A Story of Six Strings."
"everyday," by Leonard Volk invites photography enthusiasts (beginners welcome) on an inspiring photographic journey of discovery.
FOR INSPIRATION:
"You Can Have It All, Just Not All At Once!" by bestselling author Sherri Elliott-Yeary, is an inspirational read for women of all ages, who have ever doubted their abilities to overcome challenges, and become successful women at home, at work, and in their community.
Explore the intrigue of random encounters and how they impact our lives in "Is This Seat Taken? Random Encounters That Change Your Life," by former Hewlett-Packard corporate executive Kristin S. Kaufman. Learn the importance of being present in the now!
FOR THE WILD AT HEART:
Discover "encounters" by L.A. Powell, a series of eighteen sizzling, sexy vignettes. Dare to explore your innermost fantasies…
BUSINESS, FINANCE, AND INVESTING:
"America Needs America's Energy: Creating Together the People's Energy Plan," by energy expert Mark A. Stansberry, will enlighten readers to a major topic of discussion in America today.
Financial expert Lloyd Lowe Sr.—founder of LD Lowe Wealth Advisory, provides readers with the blueprint to building financial security for life in his book "Life's Bridges: Building Your Bridge to Financial Wealth." *All proceeds from these book sales benefit the Vogel Alcove. http://www.VogelAlcove.org
CEO and founder of the Beryl Companies, Paul Spiegelman, invites business leaders to ponder his "circle of growth" business model in "Smile Guide: Employee Perspectives on Culture, Loyalty, and Profit." Query: Do your employees work for you because they have to…or because they want to?
Commodities expert, Phil Storer, regularly quoted in the Dow Jones MarketWatch, offers promising day traders the inside secrets to commodities trading in "Chalk Talks for Traders: Easy Xs and Os From a Proven Market Pro."
To learn more about other available titles visit: http://www.BrownBooks.com
Books are available at Amazon.com and in bookstores everywhere.
About Brown Books Publishing Group
Brown Books Publishing Group, is a Texas-based independent publisher. For more information about the publisher, please go to http://www.BrownBooks.com.
# # #