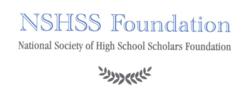 "The energy, commitment and passion that these leaders bring to supporting young people and education will greatly benefit the mission of the NSHSS Foundation," said Todd Corley Board Chair of the NSHSS Foundation
Atlanta, GA (PRWEB) December 11, 2012
The National Society of High School Scholars Foundation (NSHSS Foundation), established in 2004 by Claes Nobel, senior member of the family that established the No-bel Prizes, announces the following new members to its Board of Directors.

Kristen Blum, J.C. Penney Company, Inc., Executive Vice President, Chief Technology Officer
Dr. Elisabeth Kelan, King's College London, Senior Lecturer in Work and Organisations, Depart-ment of Management
Robert A. Marchman, FINRA Market Regulation Department, Executive Vice President, Legal Section
Alan K. Nevel, Thermo Fisher Scientific, Director, Global Diversity & Inclusion
Tanya M. Odom, Ed.M, The FutureWork Institute, Education and Global Diversity and Inclusion Consultant and Executive Coach
Mark Palmer-Edgecumbe, Google, Head of Diversity & Inclusion Europe, Middle East & Africa
"The energy, commitment and passion that these leaders bring to supporting young people and educa-tion will greatly benefit the mission of the NSHSS Foundation. We know that more graduates in STEM, business, economic and public policy fields are needed in order to meet the demands of an ever-changing global economy to create a better future for all," said Todd Corley, Senior Vice President & Global Chief Diversity Officer of Abercrombie & Fitch and Chair of the NSHSS Foundation Board of Direc-tors.
The mission of the NSHSS Foundation, a 501c3 public charity, is to support education in the form of scholarships targeted to students among those groups under-represented in STEM career majors – Sci-ence, Technology, Engineering, and Mathematics – and in business, economics, and public policy career majors. For more information visit http://www.nshssfoundation.org.