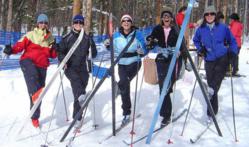 I always said, 'Old Man Winter doesn't have great eyesight,' He doesn't care if your butt is doing more movement from side to side than going forward.
Traverse City, MI –
(PRWEB) December 12, 2012 -- The event that helped thousands of American women stop worrying about how they look in ski pants is returning this winter to its birthplace: the resort community of Traverse City.
The Women's Winter Tour, a good-humored "celebration of women, winter and chocolate," will be held Feb. 3 on the scenic Leelanau Trail, between Traverse City and the neighboring village of Suttons Bay.
Unlike other athletic events, the Women's Tour features no stopwatches or numbered bibs. In fact, it's entirely noncompetitive. Participants ski or snowshoe at their own pace along a sort of "linear progressive party," stopping along the trail for locally crafted wines, gourmet cuisine, desserts and chocolates at trailside refueling stops -- and the only men in sight will be there to help.
According to founder Kaye Krapohl, the tour's only goal is to encourage women to have fun, stay fit and make friends.
"It's not a race; it's a social event," said Krapohl, an avid Nordic skier who once headed the North American VASA ski race held in Traverse City each winter. "It's all about fun."
Almost everyone in Traverse City takes to skis, skates or snowshoes during the snowy winter months, and it was Krapohl who first came up with the idea of holding a just-for-fun event where women could spend Super Bowl Sunday together in the great outdoors, skiing and eating chocolate and sampling gourmet snacks.
She was convinced that Nordic skiing was the perfect exercise for women who weren't interested in aerobics classes or other organized indoor activities, but worried that too many potential skiers were being held back by self-consciousness and unfamiliarity with the sport.
"I always said, 'Old Man Winter doesn't have great eyesight,'" she said. "He doesn't care if your butt is doing more movement from side to side than going forward."
She still remembers the first Women's Tour in 1999, when she dropped Hershey kisses along the trail to encourage her first crop of some 200 women skiers. The event was an instant success, and grew rapidly – at the height of its popularity, it acquired major corporate sponsors and spread to sister events in eight cities from Lake Tahoe to Mont Tremblant, Quebec that drew an estimated 6,000 participants. Funds raised by registration fees are earmarked for charities that provide help to women and children, and the tour has raised over $70,000 for such causes over the past 15 years.
But attendance slowly declined when the tour moved away from Traverse City, and participants kept urging Krapohl to bring the event back to the place where it began. "We're glad to be back home, and apparently so are the women who come for the tour," she said. "We're getting a lot of positive feedback now that word is getting out."
Unlike the early tours, which were held on the extensive North American VASA trail system just east of Traverse City, the new Women's Tour will take place on the Leelanau Trail, which starts at the city's western edge and winds its way through a wooded, rural landscape to the village of Suttons Bay, finishing with a massive barn party at the Black Star Farms winery.
Along the trail, participants are treated to wines, chocolates and a progression of "party tents" along the trail, and can compete for prizes at each stop. The plan, says Krapohl, is to shuttle tour participating skiers and snowshoers to staggered starting points along the route.
"It's a bit like herding hamsters," she said.
Early registration for the Women's Winter Tour is $25 to $35. For more information about registration and lodging for the Tour, as well as other winter activities and attractions in the Traverse City area, log on to the Traverse City Convention & Visitors Bureau's extensive Web site, http://www.traversecity.com