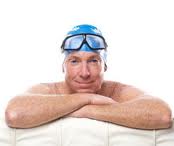 I am very excited to be hosting a webinar with TriDot founder Jeff Booher. He and I both approach training by looking first for what to eliminate in terms of unnecessary movement in form and activity in training.
New Pfalz, NY (PRWEB) December 11, 2012
Total Immersion Swimming founder, Terry Laughlin is offering a live Webinar at 9 pm EST on Thursday 13 December where he will discuss "Swim Training for Triathletes" with TriDot Triathlon Training System Founder, Jeff Booher. This Webinar brings together two of the best minds in the Triathlon and Swimming community to discuss the concept of training with purpose to maximize efficiency in swimming and triathlon training.
In this exclusive Webinar, listeners can expect to learn Terry's latest methods in Triathlon Swim Training. They will also hear TriDot head coach, Jeff Booher, discuss the latest innovative training techniques he uses with his professional Triathletes and amateurs alike.
In addition, Terry Laughlin will give a sneak preview of his next product he is launching in early 2013. Finally, listeners will have the added bonus of having a Q&A session with both coaches.
As a special bonus for attending, Total Immersion is offering a special for live webinar listeners who will have a chance to win free TI Content. This exclusive webinar is only held at 9 pm EST on Thursday, 13 December. Register for this live Webinar because we can't guarantee a replay will be provided due to the exclusive sneak preview contained in the content for next year's product line from Total Immersion Swimming.
"I am very excited to be hosting a Webinar with TriDot head coach, Jeff Booher," said Total Immersion founder, Terry Laughlin. "He and I both approach training by looking first for what to eliminate in terms of unnecessary movement in form and activity in training."
"Total Immersion is part of the reason I am a triathlete today," said TriDot head coach, Jeff Booher. "Terry's work with Total Immersion and its unique approach and techniques have been foundational for me. They've not only impacted my own swim performance but have help shape my entire approach to triathlon training."
About Total Immersion
--------------------------------
Total Immersion: Swimming that Changes Your Life
Although swimming is an essential life skill, traditional teaching and coaching methods have made it difficult to master because they teach an awkward, exhausting style of swimming. Total Immersion is a foolproof approach to teaching, brings results far faster than conventional methods and helps any student master a fluent, efficient and beautiful technique.
Total Immersion aims to enrich as many lives as possible by improving the way swimming is taught and practiced, and to make the experience of swimming more accessible, enjoyable and satisfying for everybody
About Terry Laughlin
------------------------------
As founder and Head Coach of Total Immersion Swimming, Terry Laughlin has, since 1989, taught more improvement-minded swimmers -- and progressive coaches and teachers -- than any other swim coach in the world. of any other swimming writer. His students (both swimmers and coaches) are transforming and spreading the art of teaching cutting-edge swimming technique in every corner of the world. Terry has been invited to teach his "Fishlike" approach to elite swimmers and coaches at the US Olympic Training Center, and to the national teams of other countries, as well as to the US military. Total Immersion workshops and teaching/coaching clinics are held year-round and nationwide.
About TriDot
------------------
The TriDot® System is a unique, patents-pending triathlon racing and training system developed based upon extensive, ongoing primary research that has been underway since 2004. The TriDot® System's Intelligent Design Process (IDP) is a one-of-a-kind, data-driven process that generates optimized training programs custom-built for each individual athlete based on their own data and the data from thousands of prior athlete training phases and races.
TriDot's customized programs deliver maximum results on a per-training-hour basis with lower injury risk. TriDot's methodical and repeatable methodology produces results every time for beginners to experienced professionals. The TriDot® System takes the guesswork out of triathlon coaching, training, and racing.