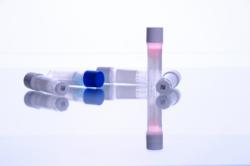 Supporting the biomedical research community's need for secure and reliable vessels to store biospecimens is a core competency for WHEATON
Millville, NJ (PRWEB) December 11, 2012
With the increased demand for personalized medicine, the growth in the cryopreservation of biological samples has increased dramatically in recent years and continues today. This increase has created the need for secure, reliable and cryogenically certified vials to provide safe, long-term storage and secure shipping of samples. In response to this demand, WHEATON introduces its CryoELITE® 0.5mL Vials for preserving and shipping small volume samples. These vials are specifically designed for storing biological specimens at cryogenic temperatures with a high integrity closure, freestanding design and a larger footprint to assure the vials can be clearly marked for identification. Ideal for optimizing sample recovery, the CryoELITE 0.5mL Vials provide the convenience and security researchers require when they collect, store and ship biospecimens derived from humans, animals and plants.
CryoELITE® 0.5mL Vials are manufactured from low binding, cryogenic-grade virgin polypropylene that meets USP Class VI classification. The externally threaded cap has been pressure tested to withstand 15 pounds per square inch, which exceeds DOT and IATA requirements for diagnostic specimen packaging and transport, and maintains a secure seal during repeated freeze/thaw procedures. Lot-tested and certified free of pyrogens, RNase/DNase and endotoxins, the vials offer a storage temperature range of 196˚C to 121˚C. CryoELITE® 0.5mL Vials are packaged and shipped sterile in cases containing 10 bags of 50 vials.
For additional productivity, WHEATON CryoELITE 0.5mL Vials accommodate 2D Data Matrix Bar Code Bottom Inserts, which can be securely snapped into place in the bottom of each vial providing individual and permanent sample identification. CryoELITE vials can be conveniently stored in WHEATON KeepIT® 81 Boxes; durable freezer boxes with bottom openings that allow vials fitted with 2D Data Matrix Bar Code Bottom Inserts to be scanned without removal from the box.
"This is a great example of customers leveraging our expertise in vials, because the CryoELITE® 0.5mL Vials were developed in response to their needs," says Wayne Brinster, president of WHEATON. "Supporting the biomedical research community's need for secure and reliable vessels to store biospecimens is a core competency for WHEATON," he added.
WHEATON CryoELITE® 0.5mL Vials are available on the new WHEATON website, at http://www.WHEATON.com. For more information or to speak with a specialist, call 800.225.1437 in the USA, or 856.825.1100 for international callers.
About WHEATON
WHEATON admires those people who devote their life to science. It's this admiration that drives us to design and deliver today's most innovative solutions for the laboratory research, diagnostic packaging and specialty pharmaceuticals industries. It's this admiration that motivates us to offer the best customer service experience and most dependable products in the industry. And, it's with admiration that we stand behind those people who help move the world forward one discovery, one sample at a time. The WHEATON name means more than a legacy of the highest quality products and services; it stands for a commitment to honor the effort of all scientists... because it's their life's work.