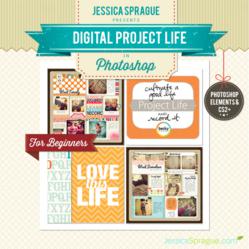 I am thrilled to be teaching this class and can't wait to show my students how easy it is to create a beautiful, digital album that records their everyday memories.
Apex, NC (PRWEB) December 11, 2012
Jessica Sprague, founder, instructor and designer at JessicaSprague.com, will be teaching a brand new Digital Project Life with Photoshop class January 7 – 13, 2013. Becky Higgins', the creator of Project Life, has given Sprague exclusive permission to teach the class focusing on the digital version of this back-to-basics approach to memory keeping.
Digital Project Life in Photoshop class participants will learn the basic Photoshop tools to create pages that integrate photographs, templates, embellishments, and type. During the class, Sprague will teach how to use Becky's digital Project Life templates to create gorgeous pages in just a few minutes a week.
The class will be taught using video instruction, broken down into project-based lessons and individual tasks within each lesson. Downloadable PDF companion guides, challenges, and exclusive materials are also included. Topics covered will include:

Download and unzip files
Open, close, combine, and save images of different types
Save pages for both print and the web
Use digital templates to speed up your work and create a cohesive look
Add embellishments to your pages
Insert, arrange, and resize photos
Use the Type tool for journaling and titles
"I love Project Life's simple approach to scrapbooking and using the digital versions makes recording memories even easier" said Sprague. "I am thrilled to be teaching this class and can't wait to show my students how easy it is to create a beautiful, digital album that records their everyday memories."
Digital Project Life with Photoshop is now open for registration. The cost for the one- week class is $23. At the completion of the class, participants will have access to the videos and course materials forever. Click here for more information and to register.
About Jessica Sprague
Jessica Sprague is a self-proclaimed "computer geek" and hybrid scrapbooker. It was inevitable, really. She grew up around computers, started a career in web and user-interface design, married a computer programmer, and became interested in digital photography. Then along came her first child, and Jessica discovered scrapbooking. But, as they say, geek is a way of life... and a new habit (er, hobby) was born.
A passionate paper AND digital scrapbooker, Jessica loves sharing her Photoshop expertise with scrapbookers looking for ways to edit and enhance photos, use digital brushes, play with digital patterned paper, type, graphics, and design.
Jessica founded JessicaSprague.com in 2007. The site's mission is to provide instruction, inspiration, and products to help people grow their skills, beautify their lives, and enhance their relationships.
About Project Life
Project Life is a solution-based approach to scrapbooking that was created to simplify the process in order to allow you more time to enjoy life! It requires no glue, no scissors, no tools, and no skills of any kind. The design of the products takes the guess work out of layout design so that you can focus on recording your everyday moments through your photos and journaling. The simple design is stylish and makes it possible for you to complete more pages in less time.
Project Life products are available on Amazon.com and digital versions at AC Digitals.
###