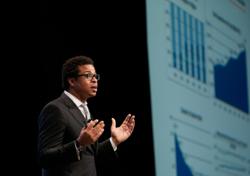 Alexandria, VA (PRWEB) December 11, 2012
The Association for Career and Technical Education held its reformatted professional learning event, CareerTech VISION 2012, in Atlanta, Georgia Nov. 28-Dec 1, 2012. Over 3,000 career and technical education (CTE) professionals attended the three-day learning event, which featured guest speakers from education and industry to discuss pressing issues around CTE and over 200 educational sessions on topics such as Common Core State Standards implementation with CTE programs, teaching strategies for the CTE classroom, program and teacher assessments, new technologies CTE programs can utilize to enhance student learning and much more. A combination of one-hour Idea Labs and two-hour Deep Dive sessions provided attendees access to hands-on learning unparalleled in the profession!
CareerTech VISION 2012, which took place at the Georgia World Congress Center, drew CTE professionals from across the country. Attendees browsed the newest classroom technologies and tools in the CareerTech Expo which showcased over 200 companies, and had the opportunity to benefit from exclusive partnerships with High Schools That Work and Model Schools which offered attendees a chance to explore best practices, instructional models and tactics for integrating rigorous academics and CTE that have been identified by these groups.
The Opening General Session at CareerTech VISION brought a panel of education and business leaders together to discuss the role of CTE in education. The panel comprised of state superintendents and industry executives spoke candidly about the challenges in the U.S. education system, the new focus CTE must employ and the need for greater industry and education connection.
Attendees at the Closing General Session heard speaker Roland Fryer, award-winning Harvard economist, education activist and collaborator on the bestselling book Freakonomics, discuss his work in education reform, his project EdLabs, conducting research on best practices in schools and his own experience as a beneficiary of CTE. As Fryer emphasized the need for strong career and technical education programs in schools, he declared, "This isn't about helping a couple of kids beat the odds; this is about changing the odds." To read more about the general session from the audience perspective, visit the CareerTech VISION 2012 Storify.
On Wednesday evening, ACTE honored its 2013 national award winners at an awards banquet. U.S. Department of Education Assistant Secretary, Office of Vocational and Education Education, Brenda Dann-Messier participated in the Banquet to help honor the nominees and winners. ACTE honors both educators and business and industry leaders each year for their exemplary work in CTE. ACTE was pleased to work with new sponsors for two awards this year; Cisco which sponsored the Teacher of the Year award and Kuder Inc. which sponsored the Career Guidance award. The awards banquet was made possible thanks to the generous support of sponsors ASVAB, Cengage Learning, Home Builders Institute (HBI), Snap-on, Trane and USA TODAY Education.
ACTE is proud to announce the following award winners for 2013:
2013 Business Leader of the Year -Brandon Pelissero, Chief Executive Officer, Ecolink
2013 Business Advocate of the Year- Jim Ryan, Chairman, President and Chief Executive Officer, Grainger
2013 Teacher of the Year, Sponsored by Cisco- Robin C. McLean, Agriscience Teacher, Northern Burlington Country Regional School District, Columbus, NJ
2013 Career Guidance Award, Sponsored by Kuder, Inc.- Sharon Ann Hetherington
2013 Outstanding Career and Technical Educator- Diana Plummer, Career Counselor, Central Technology Center, Sapulpa, OK
2013 Outstanding New Career and Technical Teacher- Lavyne Rada, Agricultural Teacher, Hutchinson School District, Hutchinson, MN
2013 Outstanding Teacher in Community Service- Jeff Eppen, Agricultural Teacher, Sibley East School District, Arlington, MN
2013 Lifetime Achievement - Rebecca Cox, Family and Consumer Sciences Teacher, Alpine School District, Highland, UT
2013 Award of Merit -Kentucky Jump$tart Coalition, Frankfort, KY
2013 Image Award -West-MEC Interactive Media Department, Glendale, AZ
For those who missed the event, you can catch up on the highlights by visiting the CareerTech VISION blog. For media looking for additional images, please visit the Flickr photo set for official press images.
ACTE will be hosting CareerTech VISION 2013 in Las Vegas, NV, Dec. 5-7, 2013.
About ACTE
The Association for Career and Technical Education (ACTE) is the nation's largest not-for-profit education association dedicated to the advancement of education that prepares youth and adults for successful careers. Founded in 1926, ACTE has more than 25,000 members; career and technical educators, administrators, researchers, guidance counselors and others involved in planning and conducting career and technical education programs at the secondary, postsecondary and adult levels. ACTE provides advocacy, public awareness and access to information on career and technical education, professional development and tools that enable members to be successful and effective leaders.
###