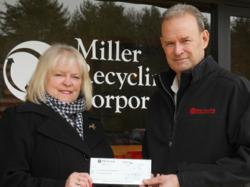 Mansfield, Massachusetts (PRWEB) December 13, 2012
Miller Recycling Corporation completed their second E Waste collection event on Saturday, December 9th. This event was held at 73 Plymouth Street in Mansfield, MA, at their main office and recycling facility.
Over 200 vehicles attended, delivering everything from computers, monitors, TV's, and all other types of electronic scrap. Miller Recycling accepted close to 15 tons of material during the 6 hour event!
Miller Recycling Corporation thanks all those from Mansfield and various surrounding communities that participated and helped make this worthwhile. 100% of the materials collected will be disassembled and properly recycled.
Prior to the event the company established a charge for all monitors and TV's to help cover the cost of recycling these difficult items. Mansfield's Westside Benevolent Society was chosen as the benefactor for 50% of this collected charge. Miller Recycling selected West Side for their ongoing support and assistance to those in need in the town of Mansfield.
Miller Recycling was pleased to announce that they donated $1,160.50 to The West Side Benevolent Society due to your participation.
Contact Miller Recycling at 800-783-6766 for more information on their ongoing E Waste program. Subscribe to their newsletter to view current events.
About Miller Recycling Corporation
Operating since 1940, Miller Recycling is a third generation company with the experience required to assist with all, paper, plastics, metals, and electronics recycling requirements. Northeast Data Destruction http://www.nedest.com is our NAID "AAA" Certified confidential shredding division.