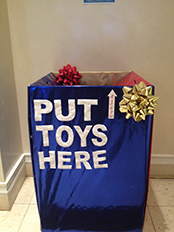 "It's been a difficult couple months for a lot of people in the community with Hurricane Sandy happening so close to the holidays, so we've amped up our efforts to help and are proud to say our residents have too." - EHS VP of Student Life
Brooklyn, NY (PRWEB) December 10, 2012
Educational Housing Services, Inc. (EHS), the leading provider of private, off-campus student housing in New York City, has launched a major campaign to inspire its more than 3000 residents to become involved with helping those in need this winter through fundraisers, blood drives, toy drives and volunteer efforts.
The season of giving kicked off at EHS in November, when EHS launched a fundraiser to help Hurricane Sandy victims and hosted a blood drive that resulted in a donation of more than 50 pints of blood to the New York Blood Center. EHS has also teamed with New York Cares for its annual Winter Wishes toy drive encouraging residents to donate money or toys.
"We work year-round to provide opportunities for our residents to help those who are less fortunate – whether through volunteer work, donations, or drives," explains Christy Gaiti-Chatfield, Vice President of Student Life. "It's been a difficult couple months for a lot of people in the community with Hurricane Sandy happening so close to the holidays, so we've amped up our efforts to help and are proud to say our residents have too."
EHS is currently collecting donations to help New York Cares answer the wish letters of children in the community, and hopes to be able to help at least 15 teens. EHS has also come up with creative ways for residents to donate, such as an event called "Cupcake Wars" in which residents made a donation to Winter Wishes to participate in a cupcake-making competition, then sold the resulting cupcakes for $1 each – which will also go directly to buying toys for the children. Also, on December 16th, EHS staff and residents will be volunteering at St. Johns Bread and Life in New York City.
For more information on the Winter Wishes fundraiser, visit http://www.studenthousing.org/student-life/news/winter-wishes
About Educational Housing Services
Educational Housing Services Inc. is a not-for-profit organization that has provided safe and convenient off-campus housing in New York City for college students and interns since 1987. The organization works with many academic institutions and corporations to provide housing for over 10,000 students and interns annually, and also leases to individual students. EHS operates eight student residences in Manhattan and Brooklyn, each of which offers fully-furnished and amenity-rich accommodations that include 24-hour security, a live-in residential staff, laundry rooms, fitness facilities, and an active student life program. For details visit http://www.studenthousing.org.