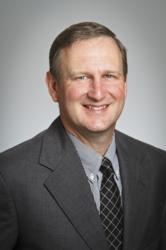 "We're working to ensure we have the right structure in place to accommodate our growth and to match consumer needs today and in the future."
Dayton, Ohio (PRWEB) December 10, 2012
CareSource, a non-profit managed health care company, has promoted Stephen Ringel to Senior Vice President of Market and Product Group effective immediately. This position was created to provide executive leadership for the Market and Product Group.
In the new role, Ringel is responsible for managing CareSource's market and product strategy. He also supports the CareSource Humana alliance business in new states like Kentucky and new product lines like the health benefit exchange as a result of Health Care Reform to begin January 1, 2014. He is accountable for product performance including member growth and satisfaction.
"We're working to ensure we have the right structure in place to accommodate our growth and to match consumer needs today and in the future," said Pamela Morris, President and CEO at CareSource. "Steve is a proven leader with marketing, finance, operations and sales experience which make him a great fit for this very important new role."
Ringel joined CareSource in 2011 and has most recently served as Vice President of Operations managing the enrollment and member service departments. Before he joined CareSource, he spent 18 years at Humana in Information Systems, Customer Satisfaction and as Vice President of Customer Care.
"Steve was promoted to Senior Vice President to support our new organizational structure and growth," Morris said.
Ringel received his Bachelor of Business Administration in Information Technology and Business from the University of Cincinnati and his Master in Business Administration in Marketing from Xavier University.