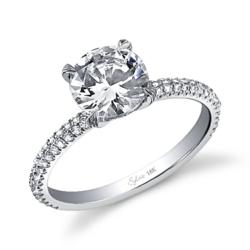 The preppy girl dreams of a clean and simple engagement ring to pair with her "fav" sweater-sets and ballet flats.
New York, NY (PRWEB) December 11, 2012
Fine jewelry is arguably the most sentimental gift that one can give to show love and adoration to celebrate the magic of the holidays. Not only is forty percent of all fine jewelry is sold in the last three months of the year, eleven percent of all engagements happen in December! Bridal fine jewelry expert and designer, Sylvie Levine, creator of Sylvie Collection, has been acting as Santa's helper for over 20 years helping gents and couples alike find or create fairy-tale engagement rings. After two decades of studying this industry, two jewelry companies and one namesake fine jewelry collection, Levine unveils her best advice with a handy list (better than Santa's!) for those looking to get engaged this holiday season.
BUDGET
When shopping for fine jewelry many shoppers find the options overwhelming. To narrow the choices down, establish a budget and only shop for rings within that range. Realizing that not all budgets are created equal, Levine designed a collection of small and sophisticated engagement rings with center stones ranging in size from .30 carats to .90 carats called the Petite Collection ranging in price from an very affordable ($1,400 to $6,995 including the center stone). It has been taking the country by storm!
BECOME A SECRET SPY
Peer into the bride-to-be's jewelry box to see what exists there. Does she prefer white metals? Are her favorite jewelry pieces ornate or clean and simple? Does she love colored gemstones? The most treasured engagement ring gifts are the ones that perfectly suit her style. When in doubt ask her best friend, sister or mom for hints but only if they are good at keeping secrets! Not sure of her ring size? Borrow a ring from her jewelry box and trace the inside-circle on a piece of paper. Your reputable jeweler will help translate the circle into a size!
PERSONALITY POP QUIZ
Levine says: "Picking the perfect ring can be as easy as determining your girl's style." Over the years, Levine has been able to establish four popular fashion personalities and determine which stone shape and ring style appeal to each.
The preppy girl dreams of a clean and simple engagement ring to pair with her "fav" sweater-sets and ballet flats. A four or six prong round diamond engagement ring set in a white metal will compliment this J. Crew loving gal.
-Is your girlfriend obsessed with maroon lipstick and gemmy headbands? Perhaps she is a fashionista?! Twisted shanks are all the rage right now and they have a sweet sentiment: Two bands become one, reflecting two lives becoming one.
-Is your girl a fan of flowers, organic food and flowing dresses? Bo-chic girls adore intricacies and unique details like filigree and milgrain details.
-Does she hit spin class every day and go on weekend hiking treks? Active women who adore the outdoors need a practical engagement ring with a low profile bezel setting which protects the centerstone when working out, gardening, or just plain living!
SAVE DOUGH WITH GOLD
Buy 14 karat versus 18 karat gold to save. Fourteen karat gold is 58 percent pure mixed with alloys versus 75 percent in 18 karat gold. If the style you choose uses a significant amount of precious metal, the difference in price between 14 and 18 karat can add up to significant savings. Be sure to look for the 14 karat gold marking on the inside of a ring because by law this marking must be present to be sold in the US. Sylvie Collection offers every single engagement ring in 4 or 18 karat gold in three colors, white, yellow and rose.
SHE'S THE SENSITIVE TYPE-PICK PLATINUM!
Platinum prices today are more affordable than ever making it a fabulous option for those who desire the white color and want something pure. Platinum is hypo-allergenic, making it ideal for those with sensitive skin. It is also quite durable and perfect for everyday wear.
GEMSTONES ARE A GIRL'S BEST FRIEND?
If she loves color and you want to save further, opt for a colored gemstone in lieu of a diamond. There are the obvious ones like ruby, emerald, and sapphires of course but risk-takers might also fancy a non-traditional pick like a pink sapphire!
ASSURANCE IN INSURANCE
Once you pick it, protect it! Insuring the ring is the last and most important step. After all of your hard work you want to be sure that you protect against loss, theft or damage since jewelry is meant not only treasured but worn! Check your home owners' or renters' insurance company or one that specializes in jewelry coverage like Jewelers Mutual, (http://www.perfectcircleinsurance.com).
Sylvie Collection boasts more than 1,000 customizable styles of diamond engagement rings and wedding bands. Designer Sylvie Levine is committed to designing diamond jewelry that is timeless, versatile and sophisticated. Sylvie Collection uses the highest quality materials including: pristinely cut center stones, hand-carved milgrain, full-cut side stones, fancy-colored diamonds and sapphires as well as platinum,18K and 14K yellow, rose and white gold. The Sylvie Collection is available at fine jewelers nationwide. For more information visit http://www.SylvieCollection.com.
# # #