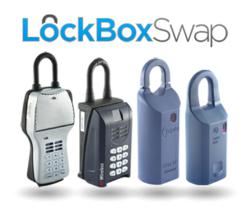 LockBoxSwap continues to build its legacy as the leader in real estate lockboxes; adding combo lock boxes, security lock boxes, and small lock boxes to our growing list of products.
San Diego, CA (PRWEB) December 11, 2012
On the one-year anniversary of LockBoxSwap opening its digital doors, the Internet leader in realtor lock boxes has announced new lock box products for realtors across the United States. Advancing its vision for the future of realtor lock boxes, the addition of the KeyGuard Pro and ShurLok small lock boxes make LockBoxSwap the only one-stop shop providing realtors with the most secure and reliable lock box technology on the market today.
More Than Just a Lock Box Store
Realtors who have used LockBoxSwap may have had modest expectations for the level of customer care from this largely unknown San Diego start-up. But with a year of business in the books, the response to the LockBoxSwap service has been overwhelmingly positive.
"Over the course of the past 12 months, we have noticed a trend of customers seeking out quality combination lockboxes from a realtor-friendly company," said Michael Fischer, Logistics Manager and 2012 Employee of the Year. "We have heard from thousands of realtors across the country that the process of securing a realtor lock box to a listing is confusing, and that they are struggling to find answers on how to use their lock boxes from the people at their association or from third-party vendors."
"At LockBoxSwap, our mission is more than just to provide realtors with the best prices on realtor lock boxes – we aim to help realtors understand the product they are relying on to secure their client's home. With the addition of combination lockboxes, we will offer our realtor customers more options to choose from, but will continue to focus on being the realtor's best resource for any and all things lock box related."
"We genuinely invite every realtor in America, even if you've never bought a lock box from us before, to contact us to answer any of your lock box questions."
Growing Up in a Down Market
Started as an easier way for realtors to buy and sell Supra and SentriLock lockboxes for less on the used market, LockBoxSwap quickly became a recognized leader in the lock box industry.
Nominated for Inman News 2012 "Most Innovative Real Estate Website," the growth of LockBoxSwap has been a widely appreciated service for realtors who have scoured the Internet in search of realtor lock boxes. While providing realtors with unparalleled product knowledge and customer service, LockBoxSwap has also implemented a simple checkout process for realtors to buy lock boxes with as little interruption to their day as possible. In an increasingly mobile world, realtors are constantly on the go showing properties, meeting clients, and negotiating with lenders. The need to buy a lockbox shouldn't cut into the busy realtor's life.
"Based on the number of economic indicators pointing to a continuing growth in the real estate market over the next year, we are confident that realtors across the country will continue to seek out the most quality realtor lock boxes for the best value," said Blake Nolan, Chief Executive Officer of LockBoxSwap. "By combining our top-notch customer service, a simple three-step online checkout, and the best deals on lock boxes on the Internet, LockBoxSwap continues to build its legacy as the future of small lock boxes in real estate."
Pricing and Availability
Currently available to realtors nationwide, LockBoxSwap provides the following realtor lockboxes:

Supra iBox and iBox BT
SentriLock Generation II and NXT
KeyGuard SL-500 Combo Lock Box
ShurLok SL200W Combo Lock Box
Supra iBox and BT lock boxes range from $69.99 to $84.99. SentriLock Gen II and NXT lock boxes range from $59.99 to $94.99. Combo boxes range from $24.95 to $34.95. Free shipping is always included on Supra and SentriLock realtor lock boxes.
After an exciting year in 2012, LockBoxSwap is expected to continue its development as the nationwide leader in security lock boxes. Go to http://www.LockBoxSwap.com to learn more.
###
With competitive prices, a fanatical desire for customer service and free shipping on every Supra and SentriLock lock box, LockBoxSwap is the one-stop shop for every realtor's lock box needs.
"Fantastic." "What a great idea." "I wish I had thought of this years ago." These are just some of the reactions of LockBoxSwap customers when they experience the simplicity and innovation behind the LockBoxSwap business.
Whether you are a part-time real estate agent taking a friend's listing, or a busy broker with a team of realtors managing your multiple listings, LockBoxSwap can help you find the right lock box, at the right price, and with the dedicated goal of making sure the process is as seamless and easy-to-understand as possible.
To buy a combo lock box or a Supra or SentriLock realtor lockbox for your next listing, go to http://www.LockBoxSwap.com. For bulk transactions (25+ lockboxes), call Logistics Manager, Michael Fischer, at (888) 835-2540, or email at michael(at)lockboxswap(dot)com.