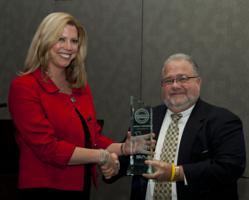 "We are excited to be recognized for the role we played in Devon Energy's well-deserved Security Innovation Award," said AMAG Technology Director of Business Development, Jody Ross.
Torrance, CA (PRWEB) December 11, 2012
AMAG Technology's Devon Energy Tower project has been awarded the 7th annual Security Technology Executive/Security Industry Association's Security Innovation Award for the most unique collaborative security project of the year. The project demonstrated the collaborative efforts between the systems integrator, Dowley Security Systems, and their vendor partners to successfully meet the security needs of Devon Energy. AMAG Technology's Symmetry Enterprise Security Management System with Symmetry M2150 Intelligent Controllers were selected to provide the access control for this Fortune 500 company. AMAG Technology is an access control, IP video and intrusion detection (IDS) solution provider.
"We are excited to be recognized for the role we played in Devon Energy's well-deserved Security Innovation Award," said AMAG Technology Director of Business Development, Jody Ross. "It was an honor to work closely with Dowley Security Systems, HMA Consulting and Devon to accomplish the challenging goal of providing a safe and secure environment for Devon Tower and its 150 locations throughout North America."
"It seems that each year our Security Innovation Awards competition evolves, the quality of our submissions just get more impressive," said Security Technology Executive, Security Dealer & Integrator and SecurityInfoWatch.com, Publisher/Editorial Director, Steve Lasky. "Our judges were extremely impressed by the scope and complexity of the Devon Towers project in Oklahoma City. It was a true collaborative effort between the vendor and systems integrator to create a solution that met and exceeded every expectation of the client – Devon Energy Corporation. Kent Chrisman said that AMAG was the best technology fit for this extensive security project because it offered them the opportunity to seamlessly integrate every option they needed."
Dowley Security Systems hosted a Security Innovation Award Banquet on December 4, 2012 at The Colcord Hotel in Oklahoma City to honor Devon's Director of Corporate Security, Kent Chrisman and Dowley CEO, Jim Brown, General Management, Jeff Fields and Operations Manager, Justin Steely along with the vendors involved with the project. In addition to AMAG Technology, Axis Communications, Bosch Security Systems and CSC were also honored.
HMA Consulting recommended AMAG's Symmetry Security Management System with Symmetry Video Management to Devon Energy to manage their access control and security. AMAG's Symmetry Lifecycle Program offered several enhanced components to streamline communication, maximize system performance and deliver return on investment for Devon. The Symmetry Security Management System's easy-to-use interface and powerful feature set also won them over. The system is now installed in their brand new 50-story tower in Oklahoma City along with several other sites, and includes over 1400 readers and 800 cameras.
Dowley Security Systems is the leading provider of turnkey technology integration and electronic security systems. Dowley combines innovative designs, proven technologies, project managed installations and digitally dispatched service teams. The unique manner in which they fully integrate all aspects of a security platform resolves their client's business issues and sets the Dowley team apart. Their customers hold them in high regard for their commitment to quality, service and the value they reliably provide each and every day.
Devon Energy Corporation is a leading independent oil and natural gas exploration and production company. Its operations are focused onshore in the United States and Canada. They also own natural gas pipelines and treatment facilities in many of their producing areas, making them one of North America's larger processors of natural gas liquids. Devon produces about 2.6 billion cubic feet of natural gas each day — more than 3 percent of all the gas consumed in North America.
Headquartered in Oklahoma City, Devon is a Fortune 500 company and is included in the S&P 500 Index. Its common shares trade on the New York Stock Exchange under the ticker symbol DVN.
For more information about AMAG's Symmetry Product Portfolio visit http://www.amag.com or email sales(at)amag(dot)com. You may also call 310-518-2380.
About AMAG Technology
AMAG Technology's Symmetry Security Management and Video Solutions can be found in a wide spectrum of markets: government, commercial, education, transportation, healthcare, utilities and banking. Based out of Torrance, California with sales and support located throughout the US, AMAG sells its Symmetry Product Portfolio of access control and network video systems through its Symmetry Authorized Resellers throughout North America. AMAG Technology is part of G4S Technology, a leading manufacturer of scalable, integrated security management systems headquartered in Tewkesbury, Gloucestershire, England. AMAG Technology has been at the leading edge of access control technology for over 40 years.
G4S is the world's leading international security solutions group, which specializes in outsourced business processes in sectors where security and safety risks are considered a strategic threat. G4S is the largest employer quoted on the London Stock Exchange and has a secondary stock exchange listing in Copenhagen. G4S has operations in more than 125 countries and 657,000 employees. For more information on G4S, visit http://www.g4s.com.