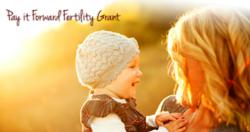 Our physicians and staff were so moved by Megan's story and the generosity of the Pay it Forward foundation, that we thought wanted to help
Rockville, MD (PRWEB) December 13, 2012
Inspired by Megan, a fertility patient who was struck by tragedy during Hurricane Sandy, Shady Grove Fertility Center campaigned to raise funds for Pay it Forward Fertility, a non-profit organization that was created to give hope to people who want to build a family through financial grants. Through a Facebook campaign, Shady Grove Fertility raised $2000 to fund a fertility grant for patients without insurance coverage.
After hurricane Sandee, Megan not only lost her parents' home in New Jersey, but her hope of having a child of her own. For more than 10 years, Megan had been struggling to conceive. She had just recently found the medical help she needed at Shady Grove Fertility Center. Her parents had been planning to help Megan and her husband, Dan, pay for IVF and donor egg treatment. However, her dream of parenthood took a big step back when her parents expressed they would no longer be able to help financially.
Just as Megan learned she may not be able to afford treatment, she got an unexpected call. It was the Pay It Forward Fertility Foundation. They were calling to award Megan an $8,000 grant to help offset the cost of fertility treatment.
"Our physicians and staff were so moved by Megan's story and the generosity of the Pay it Forward foundation, that we thought wanted to help," said Mark Segal, CEO at Shady Grove Fertility Center. Shady Grove Fertility's online communities, partner organizations and staff rallied to help raise $2000 in less than two weeks to help fund a grant for a future Shady Grove Fertility patient.
"Although nearly 90% of our patients have some form of insurance that covers consultations and testing, we never want a lack of resources to interfere with a patient's ability to build a family," says Isaac E. Sasson, MD, PhD at Shady Grove Fertility's Chesterbrook, PA office outside of Philadelphia who is one of Megan's physicians in the Philadelphia office. "Additional financial resources include discount programs, 100% refund guarantees, fertility financing and fertility grants."
If you are unsure if you need to see a fertility specialist, patient inquiries and appointment requests should call 888-761-1967 or visit http://www.ShadyGroveFertility.com.
About Pay It Forward Fertility Foundation
Formed as a result of a generous donation from Lori and Rob Moscato of Raleigh, North Carolina, the Pay It Forward Fertility Foundation helps people of various circumstances afford fertility treatments that are not covered by health insurance. The mission of the Pay It Forward Fertility Foundation focuses on assisting three groups: couples who cannot afford fertility treatments such as in vitro fertilization (IVF), donor egg IVF, and embryo adoption; military personnel at North Carolina posts and bases who are being deployed and want to preserve their fertility by cryopreserving their semen or embryos; and cancer patients who want to preserve their fertility before they begin treatments such as chemotherapy, radiation and/or surgery which could leave them sterile. Additional information is available at http://www.payitforwardfertility.org.
About Shady Grove Fertility
With over 5000 IVF cycles and 1000 donor egg cycles performed annually, Shady Grove Fertility Center is the largest and one of the most progressive fertility and IVF Centers in the United States, producing pregnancy success rates that are consistently higher than the national averages. Twenty-five reproductive endocrinologists, as well as PhD scientists, geneticist, and over 400 highly specialized staff care for the thousands of local, national and international patients who seek treatment through the Center each year. Shady Grove Fertility conducts clinical research in collaboration with the National Institutes of Health and is part of their subspecialty training Fellowship in Reproductive Endocrinology. In addition to participating with 21 insurance plans, Shady Grove Fertility has innovated a number of treatment and financial programs, such as Shared Risk 100% Refund Program, Multi-Cycle Discount Option for IVF, Shared Donor Egg, International Donor Egg, and Shared Help, to make treatment more affordable for more couples. Shady Grove Fertility is Celebrating 20 Years and 27,000 Babies Born. Shady Grove Fertility is a member of the Attain Fertility Network.