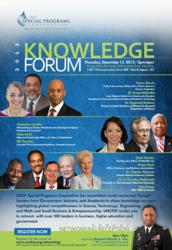 "Our mission is to enable a continuous pipeline of highly skilled diverse talent to fill STEM jobs and even create new ones by promoting innovation and entrepreneurship within the MSI community," Hames added.
Washington, DC (PRWEB) December 11, 2012
The UNCF Special Programs Corporation (UNCFSP) will host a Knowledge Forum on Science, Technology, Engineering and Math (STEM) issues within the Minority Serving Institutions (MSI) of higher education community. UNCFSP will facilitate two panels that will discuss a range of topics including STEM, small business, entrepreneurship, innovation, and their correlation to MSI higher education capabilities. Experts representing government, industry, higher education and the non-profit sector will discuss issues, programs, best practices, and solutions to challenges facing our nation's competitiveness in STEM. "Minority Serving Institutions (MSI's) must remain relevant and deliver solutions to support a complex culture where social, education, innovation, diversity and economic norms overlap," said Lamont Hames, Chief Development Officer, for UNCFSP.
UNCF Special Programs Corporation's Knowledge Forum will take place on Thursday, December 13, 2012, at the Willard Intercontinental Hotel in Washington, DC. The Knowledge Forum is from 2 p.m. – 6 p.m. and will feature thought leaders on two high impact panels: Small Business, Entrepreneurship and Innovation, followed by the second panel on Science Engineering Technology & Math (STEM). Following the panels, there will be a business and recognition reception at 6 p.m. that will feature Four Star General Dennis L. Via, 18th Commanding General, U.S. Army Materiel Command in Huntsville, AL, who will speak on the importance of diverse talent and innovation required to support national security, global competitiveness, and leadership. UNCFSP will also recognize General Via with its Strength in Diversity Leadership award. Additional recognition will be conveyed to other notable leaders for their contributions in promoting diversity in STEM: Charles Bolden, NASA Administrator; Dr. Charles McDuffie, Lead, Cybersecurity Education, National Institute for Science and Technology (NIST); and Warner Williams, Vice President, Chevron Corporation Gulf of Mexico Business Unit; with UNCFSP's Pioneer in STEM award
To learn more about UNCFSP or to establish a partnership, please contact: Lamont Hames, Chief Development Officer, UNCF Special Programs Corporation, 6402 Arlington, Blvd. Suite 600, Falls Church, VA, 22042, phone: 703.205.7622; email: lamont(dot)hames(at)uncfsp(dot)org