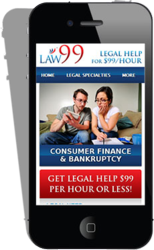 Affordable legal help is now only a few taps and swipes away
thanks to Law99.com
Virginia Beach, VA (PRWEB) December 12, 2012
With the exponentially increasing number of tablet and smartphone users in the U.S, Law99™ realizes this shift in internet accessibility and offers a completely mobile-ready website to consumers. The company understands that the majority of its users are busy people who are constantly on the go. This is why it provides the convenience of a responsive website that can be accessed by any mobile device. The easy-to-use interface of Law99's mobile website allows visitors to effortlessly scroll through it and get legal help.
The website currently provides legal help in the following areas:

Housing/Property
Business Law/Employment Law
Injury/Accident
Divorce/Family
Wills/Probate/Elder Law
Immigration
Bankruptcy/Debt
Criminal/Traffic/Defense
Mobile device owners can simply select any of the above-stated areas and then choose their state. Once they provide this information, the website requires users to describe their needs. There is even a section that helps visitors define the subcategory of the areas listed above to ensure that you get a specialized lawyer. This overall process has only 3 simple steps and you can be on your way to receiving affordable legal help in no time.
There are no hidden charges or obligations when using Law99's services. All you have to do is provide the required information and you're ready to receive inexpensive legal help from experienced lawyers across the nation.
The fact that Law99.com is mobile-ready means that users spend less time trying to find legal help. This can be very beneficial for that single mother in need of legal help who is strapped for time juggling two jobs, spending time with her child, and taking care of the house. It can also prove to be beneficial for the legally-troubled small business owner low on cash, working through the holidays to make ends meet.
Law99's mobile website allows individuals and companies facing legal trouble to spend time on more important aspects of life and business rather than searching for lawyers.
According to Cynthia Martin at Law99™, "Affordable legal help is now only a few taps and swipes away thanks to Law99.com and our extensive network of lawyers located across the nation. Users no longer have to visit awkward, time-consuming, and difficult-to-navigate websites to look for legal help. Law99™ brings convenience and accessibility to your fingertips. You can have your own qualified lawyer for $99/hour or less."
This secure, web-based platform permits legal professionals to work from anywhere. The flexibility allows both legal professionals and consumers to practice and get legal help remotely whenever suitable. Law99's mobile-ready website breaks the barriers of traditional brick and mortar law offices because now legal help is much easier to access at an affordable rate.
About the Company
Started in 2012, Law99.com is a legal services platform that provides legal representation at a low rate of $99 per hour or less. The platform itself is free and consumers just have to pay discounted lawyer fees. The company has been formed to provide access to legal help to middle class Americans and small and medium businesses. It believes that assisting these entities will help them become self-reliant and consequentially, facilitate a faster economic recovery for the United States.