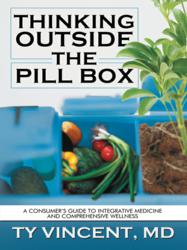 I firmly believe that doctors tend to fail at helping people because they don't listen to their patients and observe what is really going on
Anchorage, AK (PRWEB) December 13, 2012
Looking in the wrong places for the cure to chronic illness?
Dr. Ty Vincent has the cure.
Focusing on fixing the symptoms rather than preventing the causes, American mainstream medicine and a failing medical education system has led consumers down the slippery slope to poor health. In his latest guidebook to healthy living, Thinking Outside the Pill Box, Dr. Ty diagnoses the major problems facing healthcare and medical entities today.
"I firmly believe that doctors tend to fail at helping people because they don't listen to their patients and observe what is really going on," Dr. Ty said. "Instead, they are blinded by the beliefs drilled into them during conventional medical training. Many of these beliefs are completely incorrect, and much of this teaching comes from pharmaceutical companies either directly or indirectly."
Combining the science of conventional medicine with the innovation of integrative medicine, his book highlights the importance of understanding causes of illness rather than relying on a substance for temporary relief.
"Doctors are not taught to cure the underlying factors behind chronic conditions such as high blood pressure and heart disease," Dr. Ty added. "Instead they are taught to prescribe drugs for these symptoms and conditions, which have significant and sometimes life threatening side effects. People need to realize it is they themselves who have the power to change policy and the things that affect them every day in terms of health," Dr. Ty said.
Dr. Ty dispels many of the false beliefs the American culture has been led to embrace in regards to diet, exercise, and medical care. He also presents an in-depth discussion of the financial and societal impact of the current state of healthcare in the U.S. compared to other countries.
Thinking Outside the Pill Box
By Dr. Ty Vincent
ISBN: 978-1-4772-5514-8
Available at Amazon, Barnes & Noble, and AuthorHouse.
About the author:
Dr. Ty Vincent is an integrative physician trained in full-spectrum family medicine, receiving his degree from the University of Washington, School of Medicine. From attending to patients in the ICU, delivering babies, performing colonoscopies and endoscopies, and daily work within a group practice his experience covers a wide range in the medical field. His additional training includes acupuncture, chelation, hormone therapy, immunotherapy, and herbal medicine. Currently Vincent speaks at integrative medical conferences and in the areas of hormone therapies and immune therapies. A father of six, he also runs his outpatient clinic and is involved in national integrative education for two major physician organizations.
####