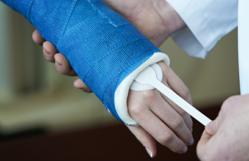 ...a safe and gentle cleanse that virtually wipes out cast itch and odor,
Skaneateles, New York (PRWEB) December 20, 2012
Sani-Cast receives a patent for its unprecedented new hygiene product that provides a simple solution to an all-too-common problem. Sani-Cast™ is an innovative health tool designed to help sanitize and deodorize the skin wrapped in an orthopedic cast. Last year more than seven million bones were cast in the United States alone, proof that the challenge of cast hygiene is one that affects a large portion of the population at any given time. As anyone of those millions can attest, not long after a cast is set, the inevitable problem of cast itch and odor appear, making the healing process even more difficult for the patient.
How Does Sani-Cast Work?
The Sani-Cast kit includes a reusable medical-grade 21 inch easy-reach applicator and 36 pre-moistened disposable cleansing pads. Patients simply attach one of the cleansing pads to the end of the applicator and then slowly and cautiously work the pad up and down the skin underneath the cast, providing sanitizing and deodorizing in even the hardest to reach places. The patent-pending Sani-Cast makes wearing a cast more bearable and removes some of the health hazards involved. Sani-Cast is a gentle cleansing alternative to powder sprays and perfumes which only mask odor and promote poor cast hygiene.
"All too often a patient will insert an unsanitary household object under their cast to deal with the itching caused by bacteria. Objects such as coat hangers, rulers and pencils, break the skin causing a series of health complications. Over the last decade, our team of orthopedics, engineers and chemists have developed a safe and gentle cleanse that virtually wipes out cast itch and odor," says Sani-Cast Vice President, Michael Hogan.
The Sani-Cast Kit sells for around $15 and is available at several pharmacies nationwide.
A store locator can be found on the web site: http://www.sani-cast.com/store-locator/
Sani-Cast can also be purchased online at: http://www.sani-cast.com
# # #