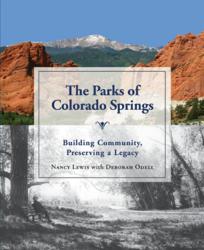 While the fires have dissipated, their impact still remains. - Nancy Lewis
Dallas, Texas (PRWEB) December 11, 2012
'Tis the Season- A Time for Reflection... Earlier this summer, devastating fires threatened to destroy the historical and magnificent parks of Colorado Springs, Colorado.
While the fires have since dissipated, their impact still remains. It is now time to pause and reflect on the history behind the national parks system—and to recognize the importance of maintaining them for future generations.
In her breathtaking book "The Parks of Colorado Springs: Building Community, Preserving a Legacy" (Brown Books Publishing Group), author Nancy Lewis, a national parks advocate and long-time enthusiast as well as a respected participant in the community of Colorado Springs, pays tribute to the founder and visionary of the Colorado Springs park system, General William Jackson Palmer.
Lewis offers readers a rare look inside the makings of the Colorado Springs park system, revealing the history behind the parks' beginnings, offering a glimpse of their grandeur, and illuminating how they once served as a center of social activity.
"Recent years have put our parks in jeopardy," says award-winning philanthropist and conservationist, Katherine Loo. "Nancy Lewis's book shows readers why we must preserve this legacy given to us by so many."
"The Parks of Colorado Springs" weaves a compelling tale about the growth, success, challenges, and disappointments these parks have seen since their inception.
Using never-before-seen photographs, Lewis outlines a clear picture of how things came to be, exposing the problems facing the parks today and emphasizing the importance of maintaining them for future generations throughout the entire country.
Don Henley, recording artist and founder of the Walden Woods Project and the Caddo Lake Institute, said, "By chronicling the vision and legacy of those who were instrumental in the creation of the Colorado Springs parks, Nancy Lewis affirms our increasingly important role as stewards of our public lands."
Today, 141 years after General Palmer's grand vision first emerged, the national park system continues to be a place of solace and relaxation, a place to reconnect with the magic of nature.
Recognized with numerous awards for her leadership, wisdom, and vision, Lewis's commitment to the people and parks of Colorado Springs is unwavering.
"I believe if you are going to live in a community, you have to be a part of it," says Lewis. "Giving back is the balance to taking—our park system is a treasure we were given, that we enjoyed, that we grew, that we now see passing into the future. We are responsible for seeing that well done."
To learn more visit: http://www.TheParksOfColoradoSprings.com
Books are available online and in bookstores everywhere.
ABOUT THE AUTHOR:
Nancy Lewis started working with the Colorado Springs Parks and Recreation Department in 1966, leading fourth graders on nature hikes. Over the next twenty-seven years, she served as assistant director of the senior center, recreation specialist, recreation supervisor, general recreation manager, and finally director of the department. Following her retirement in 1994, she became president of the Garden of the Gods Visitor and Nature Center as well as president of the Garden of the Gods Foundation. In recognition of her advocacy for parks and her many contributions to the community, the city dedicated Nancy Lewis Park in her honor in 1997.
ABOUT BROWN BOOKS PUBLISHING GROUP:
"The Parks of Colorado Springs: Building Community, Preserving a Legacy" was published by Brown Books Publishing Group, a Texas-based independent publisher. For more information about the publisher, please go to http://www.BrownBooks.com.
# # #