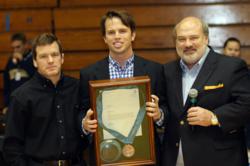 Cleveland, TN (PRWEB) December 13, 2012
History was made recently when a former Olympian was reunited with his bronze medal.
When Terry Brands and his twin brother, Tom, brought their powerhouse Iowa wrestling team to Maclellan Gym on Nov. 16 to face the University of Tennessee at Chattanooga's Mocs, the event also became the first-ever wrestling sellout for the university.
The doors had to be locked promptly at 7 pm and many fans were unable to see the match live.
The official capacity of Maclellan Stadium is 2,700, although it is believed around 3,000 slipped through the doors before they had to be locked for safety. The fire marshal turned away an estimated 700 fans.
The Mocs eventually lost to Iowa 37-6. Although the score was lopsided, the evening featured some of the most exciting wrestling ever witnessed in Tennessee.
Brands is Iowa's associate head coach and is a former UTC head wrestling coach who departed after wining a Southern Conference championship in 2005. His brother, Tom, is Iowa's head coach.
In this midst of the packed arena, a special gift was presented to the Brands family from Cleveland's Allan Jones, a supporter of collegiate and high school wrestling programs, and the founder of Check Into Cash.
Jones was returning a gift that had been given to him by Terry back in 2004.
Prior to the 2004 exchange, Terry had an extraordinary record. He was one of the nation's greatest freestyle wrestlers, winning World gold medals in 1993 in Toronto, Canada, and in 1995 in Atlanta, GA, at 125.5 pounds. As a member of the 1993 and 1995 U.S. World Teams, he was on the only two U.S. teams to win World Team freestyle titles.
In 1993, Terry won his world title with his brother Tom, who was the World champion at 136.5 pounds. The twins were named 1993 USA Wrestling Athletes of the Year.
The Brands twins made history by becoming the first U.S. brothers to win a World title during the same year.
Terry and Tom eventually competed in the Olympic trials for the 1996 Olympics in Atlanta. The twins entered the Olympic trials dreaming of gold medals together and were prepared to settle for nothing less.
In the Olympic team trials, Tom became the United States Olympian of his weight class and Terry was narrowly defeated by Kendall Cross, an Oklahoma State graduate and NCAA champ, in a "best of three" series of matches at the 125.5-pound weight class.
The battle between Brands and Cross for the starting position has been called one of the most exciting Olympic trials matches in history.
Both Kendall and Tom went on to win gold medals in the 1996 games. Terry was reportedly devastated that he had been unable to get a gold medal like his brother.
In 2000, Terry made a comeback and won the U.S. Olympic Team Trials at 127.75 pounds. He earned a bronze medal at the 2000 Olympic Games in Sydney, Australia – not the gold he had longed for due to years of wrestling injuries that had taken a toll on his body.
Jones said to understand the disappointment Terry felt at winning only bronze, you must know the mind of a champion. Winning is the only goal and anything less is not acceptable.
"Terry has the mindset of a champion, which is why the bronze haunted him," said Jones. "Being third in the world to anyone else would have been a success, but not to Terry Brands. He stared at the bronze medal for years and could not overcome the feelings he had of failure."
Brands gave his bronze medal to Jones on Dec. 28, 2004 as a late Christmas gift.
Jones, who was runner-up in the state wrestling tournament at 155 pounds in 1972, joked:
"Even though I only came in second, I would not even give my medal to my mother!" Upon sending the bronze medal to Jones in 2004, Brands said the following in a letter that was included with the package:
"I would consider it an honor for the Jones family to display this at your home as a small token of my appreciation for all you do for the world of wrestling. You have made a significant difference and I can never thank you enough."
Jones was overwhelmed at the gift and attempted to return it to Brands, but the Olympian wouldn't hear of it. "He insisted I keep it," Jones said. "I told him that I would display it proudly until his son, Nelson, was at least 12 years old. At that point, I would return it to Terry's family."
When Iowa's 2012-2013 schedule was being planned, Tom and Terry Brands agreed to bring Iowa to Chattanooga in order to help the wrestling programs in the south. Mocs Coach Heath Eslinger was most grateful.
Jones recognized that Brands' return to UTC was the perfect opportunity to return the medal. He was concerned that Terry would not allow the medal to be returned, but Jones convinced him that the medal was going to his now 13-year-old son, Nelson, – and not to Terry. This led Terry to accept the plan.
While 3,000 rabid fans looked on, Jones read a letter to Nelson, who was unable to make the trip from Iowa to Chattanooga:
"Your dad made a great gift to me in 2004 when he gave me is Bronze medal that he won in Sydney during the 2000 Olympics," Jones said to Nelson. "I was most honored, but felt like I would hold the medal until you were at least 12 years old so you could appreciate the importance of it. Now that you are 13, I would like to present you with your father's historic Bronze medal."
Jones asked Nelson to cherish the medal and eventually pass it on to his firstborn son.
After eight years, the Olympic Bronze Metal is back in the Brands family – not to Terry – but now owned by his 13-year-old son, Nelson.