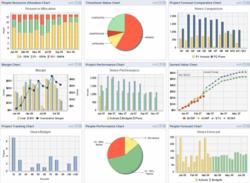 Dulles, VA (PRWEB) December 20, 2012
Unanet Technologies, a provider of professional services automation software for project-based organizations, has announced new senior management appointments to support its continued growth.
Christopher Craig has been appointed as President and Chief Operating Officer, responsible for all aspects of Unanet operations and performance. Since joining Unanet in 2000, Mr. Craig has contributed to Unanet's growth through a variety of roles related to product management, professional services, customer account management, marketing, and business development. He has helped build the customer base to over 950 organizations, and revenue has increased 20% year over year for the last nine years. Mr. Craig has over 15 years of experience in the technology arena.
Fran Craig will retain her role as Unanet Chief Executive Officer, focusing on Unanet's strategic direction, financial oversight, sustaining and evolving company culture, and as an ambassador of Unanet.
Fran Craig noted, "This is a very exciting time in Unanet's growth and evolution. I founded Unanet as a great place to work to create great software products. I look forward to supporting the next stage in the company's development. We will continue to drive innovation into the product to ensure Unanet customers can better manage their customers, people, projects, and associated services, anytime and anywhere."
Christopher Craig commented, "I am honored to lead such a dynamic and experienced team, and to continue to collaborate with amazing customer and partner communities. The future is extremely bright for Unanet as we are strategically positioned to provide our customers with a single source of truth that streamlines their business processes, improves visibility into work performed and scheduled, and increases productivity across their organizations."
Additionally, Kate Odgen has been promoted to Vice President of Business Development. Utilizing her experience at Unanet and prior companies, Kate will lead the Business Development Team, drive new customer acquisition, and achieve Unanet's targets for new business bookings.
Prior to Unanet, Kate has had over 25 years of experience in sales and sales management with industry-leading companies in a variety of market segments. After graduating from Duke University, she started her sales career at Xerox and has also held jobs at Kodak and Worldcom.
Unanet is also significantly expanding its product development team as the company adds new capabilities to deliver a project-based ERP system for services organizations.
About Unanet Technologies
Unanet provides superior Services Automation software which maximizes staff utilization, reduces administrative costs by 90%, improves invoicing by 10X, and supports forward decision-making for improved profitability. Unanet's more than 950 customers include government contractors, consulting/services organizations, internal IT (Information Technology), and high-technology product companies. Unanet's suite includes resource management, opportunity/project management, timesheets, expense reports and collaboration with real time information and analytics, project costing, billing and revenue recognition. With easy to use interfaces, and outstanding support. Unanet is available either as an Enterprise license (self-hosted software), or an On Demand License (Cloud).