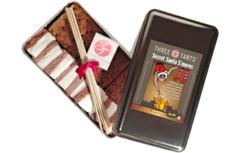 Our marshmallow gal is traveling the world with a sleigh full of s'mores for toasting! Our chocolate peppermint marshmallow s'mores kit will surely get you elected the best secret Santa of the season
New York, NY (PRWEB) December 11, 2012
New York dessert experts Three Tarts has unveiled the newest member of their house-made indoor S'Mores kits with their Secret Santa S'Mores kit.
The annual Holiday lineup of treats is always exciting for the team at Three Tarts.
"We love coming up with yummy gifts to make you look good - really good - in the eyes of your loved ones, office mates and for entertaining friends this holiday season," said Three Tarts Owner Marla D'Urso.
The Secret Santa S'Mores Kit contains chocolate chip graham cookies, chocolate peppermint marshmallows, skewers & matches. It makes nine s'mores.
"Our marshmallow gal is traveling the world with a sleigh full of s'mores for toasting! Our chocolate peppermint marshmallow s'mores kit will surely get you elected the best secret Santa of the season," said Ms. D'Urso.
In addition to their new creation Three Tarts announced the rest of their Holiday treats which include lovely ornaments filled with dark chocolate covered figs, chocolate covered candy almonds complete with candy dish and returning staples such as their Christmas and Winter petits fours, penguin lovelies (cookies), and coconut covered vanilla marshmallow snowmen.
Their number one Holiday seller for years, however, has been their house-made Chelsea Fruitcake.
"Poor fruitcake - always getting a bad rap - but not this one! Our Chelsea Fruitcake is a super-moist spice cake filled with high octane fruits like figs, apricots and dates. It's our twist on a classic and it's proud to be called a fruitcake," said Ms. D'Urso
Three Tarts Bakery & Boutique flagship store is located in the Chelsea section of New York City at 164 Ninth Avenue and can be reached at (212) 462-4392. Their second location, Three Tarts at The Plaza Food Hall, is located at New York's The Plaza Hotel and can be reached at (646) 755-3232. Three Tarts is also on Facebook, and @ThreeTartsNYC on Twitter.