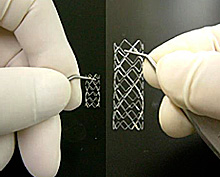 The total number of stents sold is expected to grow, reaching close to 1.6 million units with a market value in the billions.
Vancouver BC (PRWEB) December 13, 2012
With millions of Americans suffering from heart disease, one of the country's leading causes of death, the field of interventional cardiology continues to be of increasing and critical importance for medical device manufactures. According to iData Research Inc. (http://www.idataresearch.com), the leading global authority in medical device and pharmaceutical market research the U.S. market for interventional cardiology devices is valued at over $3.5 billion in 2012. Thanks to promising product development by corporate giants Johnson & Johnson, Abbott Laboratories and Boston Scientific, more Americans will likely receive treatment with less suffering and less complications, than ever before.
Stents: Past & Future
Patients with heart disease most commonly receive a percutaneous transluminal coronary angioplasty (PTCA) which involves stenting. This procedure is generally considered to be more effective than drugs and less invasive than coronary artery bypass graft (CABG) surgery.
The biggest money-maker in the interventional cardiology industry is the stent segment. Stents comprise such a large part of the total market that any significant developments or advancements in their technology have a drastic impact on the total market. There are still only two main types of stents available in the U.S. market: drug-eluting and bare-metal.
Johnson & Johnson had a big win introducing bare-metal stents over a decade ago when, within a few years millions of these devices were being placed during angioplasty procedures worldwide. Many more patients could now be treated because an angioplasty is faster, easier to perform, safer and less expensive than a CABG procedure. However, this new stenting technology has not been perfect. After a few years in circulation it was found that bare-metal stents, while effective at dilating arteries, were associated with a substantial risk of restenosis, in which the arterial wall would heal over the stent and occlude the artery once again. This complication prompted development of drug-eluting stents. Although drug-eluting stents are much more expensive than bare-metal stents; their lower restenosis rates, combined with the effects of extensive marketing campaigns, has allowed drug-eluting stents to dominate the market, accounting for the majority of units sold, only three years after their approval by the Food and Drug Administration (FDA).
American patients can expect the next wave of invention with bioabsorbable stents. When they are approved for sale in the U.S., they will most likely have a serious impact on the existing market for interventional cardiology devices. Market success is predicated on clinical trials measuring the efficacy of bioabsorbable stents against the effectiveness of current technologies and on the number of procedures performed.
Abbott Leads the Way
The company furthest ahead in the development of bioabsorbable stents is Abbott Laboratories. Where you are in the world will determine whether you have access to their product: Absorb,™ a bioresorbable vascular scaffold. This device will not be available for patients in the U.S. for another two or three years, however it has been commercially approved in Europe and is scheduled for sale in Brazil next year. Abbott is positioning the device as a new therapy that has the distinct advantage of allowing the vessel to return to normal with no permanent damage.
Market Speculation
The growth of the bioabsorbable stent market will also depend on the number of patients requiring procedures and whether existing devices, in tandem with drug management, prove to be adequately effective at treating patients. Despite a decline in usage since their inception, it is likely that bare-metal stents will remain an option in the stent market simply because they cost less. The bioabsorbable stent is more likely a substitute for existing drug-eluting stents, but again is dependant upon price and whether the product lives up to its claims.
The number of angioplasty procedures is expected to remain stable over the next few years. As angioplasty procedures increase so do stent sales. "The total number of stents sold is expected to grow reaching close to 1.6 million units with a market value in the billions," says Dr. Zamanian. "With a demand derived from procedural volume, declining prices for both bare-metal stents and drug-eluting stents will work to slow market growth." If the ASP for bioabsorbable stents proves to be higher than drug-eluting stents, then significant unit sales of bioabsorbable stents could drastically increase the value of the total stent market.
Patient Risks
Although serious complications are uncommon in stenting, there have always been risks associated for patients undergoing the procedure. The insertion of the catheter can potentially damage the artery or cause blood clots. Heavy bleeding from the insertion site can require medication or a blood transfusion and there is always a small risk of stroke with an angioplasty performed on the carotid artery. Although there are such risks associated with stenting, their likelihood has decreased as physicians have grown more experienced and as drug management has improved.
Implications for Industry Players
The stent market is by far the largest in interventional cardiology and with slow angioplasty procedural growth it will remain competitive. Companies will need to rely on bundling and technical innovation to increase revenues in the years to come. Technical innovations in stent technology and optimized drug management could make the demand for a bioabsorbable stent relatively low and result in the device becoming a niche product. Conversely, if the device proves to have strongly positive clinical trials, it could gain market share and conceivably grow as large as existing bare-metal stent or drug-eluting stent segments.
Additional Information is Available
The information contained in this article is taken from a detailed and comprehensive report published by iData Research Inc. (http://www.idataresearch.net) entitled, U.S. Market for Interventional Cardiology Devices. For a complimentary report synopsis ($195 value) or to learn about iData's upcoming reports covering Brazil and Europe, please [register online
About iData Research
iData Research is an international market research and consulting firm focused on providing actionable market intelligence for the medical device, dental and pharmaceutical industries. iData works with over 1,000 global companies in over 30 countries worldwide. Products and services include market research reports, custom consulting, surveys, reimbursement tracking, procedure tracking and market monitoring for areas such as: Cardiovascular, Cosmetic Surgery, Endoscopy, Dental, Diagnostics, Hearing Devices, Ophthalmics, Patient Monitoring, Neurology, Spine, Orthopedic, and Wound Management.