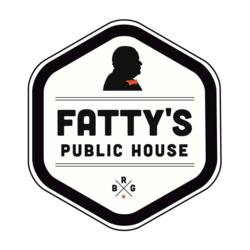 Los Angeles, CA (PRWEB) December 10, 2012
Located adjacent to West Hollywood on the famed La Cienega Boulevard between Melrose and Santa Monica sits a little known historic gem, the old home of legendary actor Fatty Arbuckle (mentor to Charlie Chaplain and Bob Hope). The space that once housed the antics of a controversial Hollywood player has now been transformed into Fatty's Public House, a contemporary American restaurant and bar with an irreverent flare. It's the fifth restaurant for BRG, a group that's taking LA by storm.
Walking in, guests are immersed in old Hollywood speakeasy style. Clay colored brick walls are decked with velvet-backed tufted booths and rich wood tables. Vintage blue and yellow tile decks the walls. There's a mural homage to some of Hollywood's greatest legends, Fatty (the man himself), his mentee Charlie, and Marilyn, peer down at you from their position next to the Hollywoodland sign, and right under the newly retractable ceiling (which promises to make Fatty's a brunch hotspot).
Again, the menu is curated by BRG's Executive Chef Laurent Saussy, and includes a number of twists on American classics and more modern elevated comfort food, which many have now come to know as Saussy's calling card. Pork chop with cheddar grits and apple sauce, meatloaf with mashed potatoes and green beans, and chicken pot pie with pork belly and pea salad stand out as better-than-your-mom-makes main dishes.
In addition, Saussy is utilizing the pre-existing wood-burning pizza oven (the previous tenant was Oak Fire Pizza), to cook up some international tastes. There's a mushroom pizza with gruyere, crème fraiche and truffle salt, a lamb mergues with manchego and curried tomato sauce and an al pastor with pork, pineapple and chilies, among others.
The carefully concocted cocktail menu shows signs of Fatty's throwback nature, with drinks such as the Prohibition, with Templeton Rye, Carpano Antica and Regans Bitters, Roscoe's Mule with Svedka, basil, bitters, lime juice and ginger beer, and Fatty's Reckless Fling featuring Stoli Blue, blueberries, lemon juice, agave and a sugar rim.
Fatty's Public House is open for lunch, dinner, and weekend brunch from 11am to 2am Monday to Friday and 10am to 2am on Saturday and Sunday. It is located at 829 N. La Cienega Boulevard in West Hollywood, California. For reservations, call (310) 854-0756.
About BRG:
Partners Justin Safier and Travis Lester formed Broseph's Restaurant Group (BRG) in July of 2010 out of a passion and love for the restaurant industry, as well as the belief in a need for more restaurants with outstanding culinary experience paired with exceptional atmosphere. By opening five restaurants in just two years (Bar Esquina in Cabo, Brick+Mortar in Santa Monica and San Diego, Smoke in West Hollywood, and now Fatty's Public House), BRG has established itself as THE restaurant group to watch, with multiple additions to their portfolio already in the works. http://www.brg-la.com
Media Contact: Kelley Coughlan, Melrose PR, Kelley(at)melrosepr(dot)com, (310) 450-7960, http://www.melrosepr.com