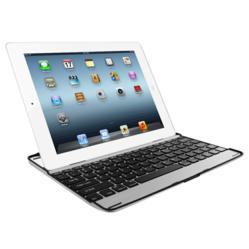 Just in time for the holiday season, MiniSuit has announced the official launch of an exquisite collection of iPad mini cases
New York (PRWEB) December 18, 2012
iPad mini was launched a little more than a month ago by Apple and has immediately made it to everyone's wish list for the upcoming shopping season. Following the market demand, distinguished manufacturer of electronic accessories MiniSuit has just introduced a highly useful range of iPad mini covers with removable keyboard.
The company already boasts of an excellent stock of accessories for laptops, cameras, gaming devices, cell phones, MP3 players, etc. These premium-quality accessories for iPad mini are available in three different models suited for different user preferences. Two of these models have metallic aluminum and black finish. The third one has a black Polyurethane leather finish for added protection.
Many manufacturers of iPad mini accessories have already come up with different products to enhance the user experience. However, the new range of multipurpose cases from MiniSuit offers unique design features to perfectly fit the device. This one-of- a- kind design allows the iPads to be propped up for convenient viewing and typing. It can also automatically wake and sleep, thanks to this amazing design of these cases. The removable Bluetooth keyboard is rechargeable and easy to carry. The Polyurethane leather-made covers provide additional safety against accidental drops and bumps. The two other models are the perfect choice for someone looking for a more professional design. All these accessories have an average charging time between 3 and 5 hours and offer excellent working time.
Minisuit has certainly chosen a great time for the launch of this new product line. More and more iPad mini users are now looking for cases for iPad mini. All these accessories are presently available in Amazon.com and the official website of MiniSuit. According to official sources, the company is also offering lucrative benefits to all buyers of these multipurpose covers for iPad mini.
During the official launch of the product line, a senior official from MiniSuit said, "These cases are must-haves for all iPad mini users. For a very small price, these accessories provide endless utilities. Visit our website to take a look at the most well-made iPad mini cases in the market."
About the Company: MiniSuit is the largest and the most preferred distributor across the globe for a wide range of electronic accessories. The company has just announced the launch of a new collection of multipurpose cases that can be a useful purchase for the owners of iPad mini.