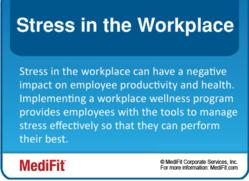 "Stress management programming can have a huge impact on employee job satisfaction and morale. These tools can be easily implemented into any corporate culture and both individuals and employers reap the benefits, " says Catherine Kolbeck
Florham Park, NJ (PRWEB) December 12, 2012
MediFit, a leading fitness and wellness management and consulting company has released a workplace stress infographic detailing how an effective workplace wellness program can combat the negative effects of stress. Stress in the workplace is on the rise, negatively affecting employee productivity and increasing rates of absenteeism. External factors such as the economy and bleak employment numbers only add to the stress that workers are feeling. Employers can implement proven workplace wellness programs to combat stress-related setbacks in the workplace.
"Stress management programming can have a huge impact on employee job satisfaction and morale. These tools can be easily implemented into any corporate culture and both individuals and employers reap the benefits, " says Catherine Kolbeck, Director of Marketing for MediFit.
Some factors that influence stress:
• Financial insecurity
• Work load
• Juggling work and personal lives
• Interpersonal issues
Some of the effects of stress on employees:
• Weight gain
• Irritability
• Headaches/Migraines
• Sleep problems
Stress-related issues are one of the major reasons that employees visit their health professionals. As companies face rising health care costs, workplace stress becomes both a financial issue and a human resources issue. By implementing a workplace wellness program, employers can save money as well as increase employee productivity and presenteeism.
About MediFit
MediFit Corporate Services, Inc. (MediFit) is a privately-held fitness and wellness management and consulting company. MediFit designs and manages corporate and community fitness centers and wellness programs throughout the United States and in three countries. MediFit is headquartered in Florham Park, New Jersey, with additional corporate offices in Norwalk, Connecticut and New York, New York.
For more information, go to http://www.medifit.com. Follow us on twitter @medifitcorp and like us on Facebook at http://www.facebook.com/MediFitCorporateServices.
For more information, contact:
Catherine Kolbeck, Director of Marketing
973.593.9000
CKolbeck(at)MediFit(dot)com